---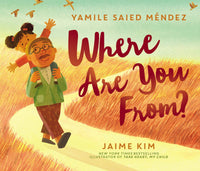 by Yamile Saied Méndez, illustrated by Jaime Kim
HarperCollins
6/4/2019, hardcover
SKU: 9780062839930
A powerful story about a simple question
A little girl who is constantly asked where she is from, and unsure how to answer, turns to her loving abuelo for help in this powerful, lyrical debut picture book celebrating diversity for children from all backgrounds and of all colors, especially for kids who have ever felt like they don't belong. 
Yamile Saied Méndez's lyrical text and Jaime Kim's stunning illustrations celebrate the importance of family, love, and home through embracing one's rich heritage and culture.
Target age: 4-8
About the Author:
Yamile Saied Méndez was born and raised in Rosario, Argentina, in a family with roots from all over the world. She now lives in a small mountain town in the United States with her Puerto Rican husband, five multicultural kids, two bilingual dogs, and a herd of deer that love to eat her flowers. She's a graduate of the Vermont College of Fine Arts. 
Jaime Kim was born and raised in South Korea before moving to the United States when she was eighteen. Although she was a timid child who was afraid of just about everything, she discovered a sense of serenity in drawing. As a grown-up, Jaime has finally stopped being afraid of everything but has kept on drawing and painting. She works with gouache and acrylics to create nostalgic and dreamlike illustrations, inspired by childhood memories of her family, as well as movies, art, and the outside world. Her debut picture book, Take Heart, My Child by Ainsley Earhardt, was a #1 New York Times bestseller. Jaime is also the illustrator of Kate DiCamillo's La La La.