---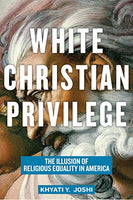 by Khyati Y. Joshi
New York University Press
7/7/2020
SKU: 9781479840236
The United States is recognized as the most religiously diverse country in the world, and yet its laws and customs, which many have come to see as normal features of American life, actually keep the Constitutional ideal of "religious freedom for all" from becoming a reality. Christian beliefs, norms, and practices infuse our society; they are embedded in our institutions, creating the structures and expectations that define the idea of "Americanness." Religious minorities still struggle for recognition and for the opportunity to be treated as fully and equally legitimate members of American society. From the courtroom to the classroom, their scriptures and practices are viewed with suspicion, and bias embedded in centuries of Supreme Court rulings create structural disadvantages that endure today.
In White Christian Privilege, Khyati Y. Joshi traces Christianity's influence on the American experiment from before the founding of the Republic to the social movements of today. Mapping the way through centuries of slavery, westward expansion, immigration, and citizenship laws, she also reveals the ways Christian privilege in the United States has always been entangled with notions of White supremacy.
Through the voices of Christians and religious minorities, Joshi explores how Christian privilege and White racial norms affect the lives of all Americans, often in subtle ways that society overlooks. By shining a light on the inequalities these privileges create, Joshi points the way forward, urging readers to help remake America as a diverse democracy with a commitment to true religious freedom.
Reviews:
"By the time you have finished reading Khyati Joshi's first chapter, in which she defines such things as 'separation of Church and State' and 'secularization' as optical illusions to mask the overwhelming dominance of Christianity in American culture, you wonder if you might have stumbled upon a gem. By the time you are finished, you might find yourself wondering if you've finished a new classic." -- Journal of Interreligious Studies
"Looking at America's history--including slavery and westward expansion-- White Christian Privilege explores how Christian privilege and white racial norms impact the lives of all Americans. The book demonstrates how Christian beliefs have been built into the Constitution and beyond, and the sometimes subtle and overlooked ramifications it has for religious minorities." -- Publishers Weekly
"'In order to form a more perfect Union,' books such as White Christian Privilege add enormous value to highlighting the gap between illusion and reality." -- New York Journal of Books
About the Author:
Khyati Y. Joshi is Professor of Education at Fairleigh Dickinson University, author of New Roots in America's Sacred Ground: Religion, Race, and Ethnicity in Indian America, and co-editor of Teaching for Diversity and Social Justice, Third Edition.