---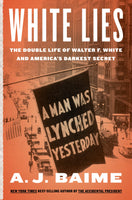 by A.J. Baime
Mariner Books
02/08/2022, hardcover
SKU: 9780358447757
A riveting biography of Walter F. White, a little-known Black civil rights leader who passed for white in order to investigate racist murders, help put the NAACP on the map, and change the racial identity of America forever
Walter F. White led two lives: one as a leader of the Harlem Renaissance and the NAACP in the early twentieth century; the other as a white newspaperman who covered lynching crimes in the Deep South at the blazing height of racial violence. Born mixed race and with very fair skin and straight hair, White was able to "pass" for white. He leveraged this ambiguity as a reporter, bringing to light the darkest crimes in America and helping to plant the seeds of the civil rights movement. White's risky career led him to lead a double life. He was simultaneously a second-class citizen subject to Jim Crow laws at home and a widely respected professional with full access to the white world at work. His life was fraught with internal and external conflict -- much like the story of race in America. Starting out as an obscure activist, White ultimately became Black America's most prominent leader. A character study of White's life and career with all these complexities has never been rendered, until now.
Reviews:
"Electrifying... In White Lies, the latest deeply informative and exquisitely paced addition to a body of work... Baime aims to deliver White's astonishing story from undeserved obscurity." -- Chicago Review of Books
"A captivating portrait of civil rights activist and novelist Walter White... Filled with vibrant period details and lucid explanations of legal and political matters, this is a riveting portrait of a complex and courageous crusader for racial equality." --  Publishers Weekly
About the Author:
A.J. Baime is the New York Times bestselling author of The Accidental President: Harry S. Truman and the Four Months that Changed the World (2017), The Arsenal of Democracy: FDR, Detroit, and an Epic Quest to Arm an America at War (2014), Go Like Hell: Ford, Ferrari, and Their Battle for Speed and Glory at Le Mans (2009), and Dewey Defeats Truman: The 1948 Election and the Battle for America's Soul (2019). Baime is a longtime regular contributor to the Wall Street Journal, and his articles have also appeared in the New York Times, the Washington Post, and numerous other publications.