---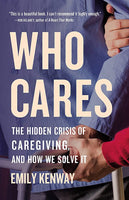 by Emily Kenway
Seal Press
5/9/2023, hardcover
SKU: 9781541601222
An intimate and deeply researched account of the experiences of unpaid caregivers, this "beautiful book" (Rob Delaney) calls for us all to put care at the center of our lives
When Emily Kenway became the primary caregiver for her terminally ill mother, her life was changed forever. Although she was lonely, she was far from alone: millions of caregivers all around the world are silently suffering from poverty, isolation, and burnout. Saving their nations' economies billions by providing nonprofessional care, these people--primarily women--remain largely ignored by politicians, in part because the demands of care itself keep them from effectively advocating for their needs. In Who Cares, Kenway brings the caregiving crisis into the light. Blending expert research with insights from her own experience, Kenway shows us that building a world that cares for its caregivers requires us to fundamentally reimagine the role of care in our society, bringing it from the margins to the center of our collective life.
Powerful and deeply reported, Who Cares is an essential read for anyone who has ever cared for, or will receive care from, another person--which is to say, for everyone. 
Reviews:
"Who Cares" is a powerful, enlightening journey through the world of caregiving, unique in its capacity to both show its cost for those, mostly women, who provide it, and imagine alternatives to the way it is presently organized. Inspired by a direct personal experience, as well as many testimonies and insightful historical research, the book denounces the social acceptance of the sacrifice of life millions of women are making to not abandon their kin when no longer self-sufficient or dying. Courageous in its detailed articulation of what caregiving actually entails, and the loss and suffering involved in this work, this is a book we all must read, For as Kenway convincingly argues, the crisis it reveals is something we will all experience, sooner or later in our lives." -- Silvia Federici, author of Caliban and the Witch

"A heartbreaking, beautiful and necessary read. Emily Kenway has written an eloquently vulnerable book that is part memoir and part polemic, and every page of it an act of love. Who Cares delves deep into the brutal realities of providing care in a world designed around the needs of capital, into Kenway's own story of caregiving for her fiercely independent mother as well as stories of caregivers from around the world, in order to show us how much our world would need to change in order to truly value and center care." -- Sarah Jaffe, author of Work Won't Love You Back
About the Author:
Emily Kenway is a writer and activist with a background in labor policy. Her work has been nominated for a Pushcart Prize. Kenway is the author of The Truth About Modern Slavery and writes regularly for international publications. She is a PhD scholar in social policy at the University of Edinburgh, where she also resides.