---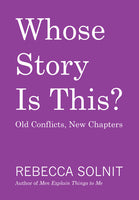 by Rebecca Solnit
Haymarket Books
9/3/2019, paperback
SKU: 9781642590180
Who gets to shape the narrative of our times? The current moment is a battle royale over that foundational power, one in which women, people of color, non-straight people are telling other versions, and white people and men and particularly white men are trying to hang onto the old versions and their own centrality. In this collection of essays, Rebecca Solnit appraises what's emerging and why it matters and what the obstacles are.

Reviews:
"In these times of political turbulence and an increasingly rabid and scrofulous commentariat, the sanity, wisdom and clarity of Rebecca Solnit's writing is a forceful corrective. Whose Story Is This? is a scorchingly intelligent collection about the struggle to control narratives in the internet age." --Alex Preston, The Guardian
"Solnit's passionate, shrewd, and hopeful critiques are a road map for positive change." --Kirkus Reviews
Author:

Writer, historian, and activist Rebecca Solnit is the author of more than twenty books on feminism, western and indigenous history, popular power, social change and insurrection, wandering and walking, hope and disaster, including Call Them By Their True Names (Winner of the 2018 Kirkus Prize for Nonfiction), Men Explain Things to Me, The Mother of All Questions, and Hope in the Dark, all also with Haymarket; a trilogy of atlases of American cities; The Faraway Nearby; A Paradise Built in Hell: The Extraordinary Communities that Arise in Disaster; A Field Guide to Getting Lost; Wanderlust: A History of Walking; and River of Shadows, Eadweard Muybridge and the Technological Wild West (for which she received a Guggenheim, the National Book Critics Circle Award in criticism, and the Lannan Literary Award). A product of the California public education system from kindergarten to graduate school, she is a columnist at the Guardian.