---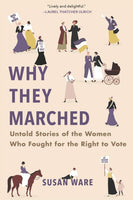 by Susan Ware
Belknap Press
5/6/2019, paperback
SKU: 9780674248298

Looking beyond the national leadership of the suffrage movement, an acclaimed historian gives voice to the thousands of women from different backgrounds, races, and religions whose local passion and protest resounded throughout the land.
For far too long, the history of how American women won the right to vote has been told as the tale of a few iconic leaders, all white and native-born. But Susan Ware uncovered a much broader and more diverse story waiting to be told. Why They Marched is a tribute to the many women who worked tirelessly in communities across the nation, out of the spotlight, protesting, petitioning, and insisting on their right to full citizenship.
Ware tells her story through the lives of nineteen activists, most of whom have long been overlooked. We meet Mary Church Terrell, a multilingual African American woman; Rose Schneiderman, a labor activist building coalitions on New York's Lower East Side; Claiborne Catlin, who toured the Massachusetts countryside on horseback to drum up support for the cause; Mary Johnston, an aristocratic novelist bucking the Southern ruling elite; Emmeline W. Wells, a Mormon woman in a polygamous marriage determined to make her voice heard; and others who helped harness a groundswell of popular support. We also see the many places where the suffrage movement unfolded--in church parlors, meeting rooms, and the halls of Congress, but also on college campuses and even at the top of Mount Rainier. Few corners of the United States were untouched by suffrage activism.
Ware's deeply moving stories provide a fresh account of one of the most significant moments of political mobilization in American history. The dramatic, often joyous experiences of these women resonate powerfully today, as a new generation of young women demands to be heard.
Reviews:
"Refreshingly, Ware...focuses on many of the lesser-known but equally audacious, talented women who joined the fight, profiling 19 courageous individuals...Important American history that is also timely given recent attempts at voter suppression."--Kirkus Reviews
"One woman can refuse to pay taxes. A dozen can issue a manifesto. But it takes a multitude to mount a parade. Susan Ware's lively and delightful book zooms in on the faces in the crowd to help us understand both the depth and the diversity of the women's suffrage movement. Some women went to jail. Others climbed mountains. Visual artists, dancers, and journalists all played a part. Suffragists tangled with each other as well as with opponents. Far from perfect, they used their own abilities, defects, and opportunities to build a movement that still resonates today."--Laurel Thatcher Ulrich, author of Well-Behaved Women Seldom Make History
"This entertaining and lively history of the women's suffrage movement is full of surprises, featuring accounts of people and events that are not well known and highlighting women from minority groups and from regions other than the Northeast. What a fresh take on the traditional narrative that begins with Seneca Falls and ends with the victory in 1920. I found myself looking forward to each new section."--Marjorie J. Spruill, author of One Woman, One Vote: Rediscovering the Woman's Suffrage Movement
"Susan Ware's book should be required reading for anyone who cares about our democracy and has forgotten how hard women had to fight for their right to participate in building a better future. She reminds us how far we've come--and how far we have yet to go."--Tanya Selvaratnam, author of The Big Lie
Author:
A celebrated feminist historian and biographer, Susan Ware is the author of American Women's History: A Very Short Introduction and Letter to the World: Seven Women Who Shaped the American Century, among other books. She is Honorary Women's Suffrage Centennial Historian at the Schlesinger Library and General Editor of American National Biography. Ware is serving as a historical consultant to American Experience for its upcoming four-hour suffrage documentary and advising singer-songwriter Shaina Taub on her forthcoming musical based on the life of Alice Paul.