---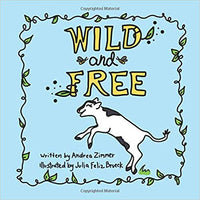 by Andrea Zimmer and Julia Feliz Brueck (illustrator)
Sanctuary Publishers
5/3/2019, paperback
SKU: 9780998994673
A catchy, repetitive rhyming picture book with beautiful illustrations, Wild and Free helps introduce young children to the concepts of wrong versus right when it comes to animal use and exploitation. It also teaches them to extend their care and empathy towards all.
Written by an elementary school teacher, children will become captivated by the bright imagery of animals they love while examining what it means for them to have a choice in how they interact with and impact others - both nonhuman and human.
Authors:
Andrea Zimmer is an elementary school teacher in OC California. Her love for all animals led her to transition to veganism. After having her daughter, Andrea became inspired to work towards creating tools that would help parents introduce young children to the concepts of animal rights, wrong versus right, compassion, and kindness for all.
Julia Feliz Brueck is a published author and illustrator with a background in conservation ecology. A decade-long vegan, Julia's work focuses on consistent anti-oppression and building bridges between movements. Born and raised in Puerto Rico, Julia currently resides in Europe, where she enjoys spending time in the sun with her two little ones.
Sales from this book help support a farm animal sanctuary.