---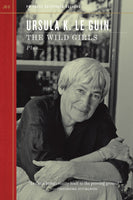 by Ursula K. Le Guin
PM Press
5/1/2011, paperback
SKU: 9781604864038
Newly revised and presented here in book form for the first time, this Nebula Award-winning story tells of two captive "dirt children" in a society of sword and silk, whose determination to find a glimpse of justice leads to a violent and loving end. Also included is the nonfiction essay "Staying Awake While We Read" which demolishes the pretensions of corporate publishing and the basic assumptions of capitalism, and "Outspoken Author Interview," which reveals the hidden dimensions of America's best-known sci-fi author.
Part of PM Press's Outspoken Authors Series.
About the Authro:
Ursula K. Le Guin is a mentor to two generations of radical feminist and progressive writers. Her novels and stories have won every major science fiction and fantasy award as well as the Pen/Malamud and the National Book Award. Her works include The Dispossessed, The Left Hand of Darkness, and A Wizard of Earthsea. She lives in Portland, Oregon.