---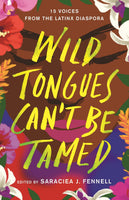 Edited by Saraciea J. Fennell
Flatiron Books
11/02/2021, hardcover
SKU: 9781250763426
Edited by The Bronx Is Reading founder Saraciea J. Fennell and featuring an all-star cast of Latinx contributors, Wild Tongues Can't Be Tamed is a ground-breaking anthology that will spark dialogue and inspire hope
In Wild Tongues Can't Be Tamed, bestselling and award-winning authors as well as up-and-coming voices interrogate the different myths and stereotypes about the Latinx diaspora. These fifteen original pieces delve into everything from ghost stories and superheroes, to memories in the kitchen and travels around the world, to addiction and grief, to identity and anti-Blackness, to finding love and speaking your truth. Full of both sorrow and joy, Wild Tongues Can't Be Tamed is an essential celebration of this rich and diverse community.
The bestselling and award-winning contributors include Elizabeth Acevedo, Cristina Arreola, Ingrid Rojas Contreras, Naima Coster, Natasha Diaz, Saraciea J. Fennell, Kahlil Haywood, Zakiya Jamal, Janel Martinez, Jasminne Mendez, Meg Medina, Mark Oshiro, Julian Randall, Lilliam Rivera, and Ibi Zoboi.
Target age: 12 to 18
Reviews:

"A standout... an inspiring book for those who will see their own struggles with identity and belonging reflected within these pages. Above all, it is a book that will make many feel seen, heard and empowered." -- Reyna Grande, San Francisco Chronicle
"A beautifully edited collection of reflections on the Latinx diaspora. With writers like Naima Coster, Kahlil Haywood, and Lilliam Rivera, it highlights a vast variety of identities and writing styles." -- Elle
"The Bronx Is Reading founder has compiled an anthology of original nonfiction revealing a vast spectrum of Latinx experiences." -- New York Times
About the Editor:
Saraciea J. Fennell is a Black Honduran writer and the founder of The Bronx is Reading. She is also a book publicist who has worked with many award-winning and New York Times bestselling authors. Fennell sits on the board for Latinx in Publishing as well as on the Advisory Board of People of Color in Publishing. She lives in the Bronx with her family and dog, Oreo.