---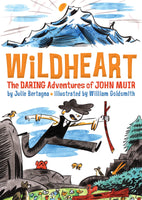 by Julie Bertagna, Illustrated by William Goldsmith
Yosemite Conservancy
3/19/2019, hardcover
SKU: 9781930238947
Told for the first time in a graphic novel, this is the exciting life story of John Muir--who sailed to America as a boy and ended up changing the world.
John Muir led an adventurous life, starting with his wild and playful boyhood in Scotland and culminating in his legendary exploits in America, where he became an inventor, an explorer, a bold champion of wilderness--and even made friends with a president! His heart was always in the outdoors and he aimed to experience all he could. Most importantly, though, John Muir told the world about the wonders of nature. His words made a difference and inspired people in many countries to start protecting planet Earth-- and they still do.
Reviews:
"John Muir comes to life in this affectionate graphic format biography of the 19th-century environmentalist, inventor, and adventurer. . . .Goldsmith's charming cartoons, with black line drawings and washes of color, match the exuberant story. . . . the result is a quick but deeply personal glimpse at a legendary figure." -School Library Journal
"This kid-friendly homage extols the passion and purpose of a green pioneer." -San Francisco Chronicle
About the Contributors:
Julie Bertagna is an award-winning author of acclaimed books and short stories for children and young adults. Exodus has won various awards including a Friends of the Earth Eco Prize for Creativity and a Santa Monica Public Library Green Prize for Literature. Five of her young adult novels have been nominated for the United Kingdom's prestigious Carnegie Prize and other major shortlists, such as the Whitbread Children's Book of the Year and the Booktrust Teenage Prize. Awards in her native Scotland include the Children's Book of the Year and the Catalyst Book Prize.
William Goldsmith is a British writer and illustrator based in Moscow, where he teaches illustration at the British Higher School of Art and Design. His work has appeared in a range of publications and exhibitions in the United Kingdom and overseas. His other graphic novels are The Bind and Vignettes of Ystov.