---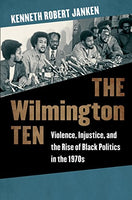 by Kenneth Robert Janken
University of North Carolina Press
8/1/2021, paperback
SKU: 9781469666235
In February 1971, racial tension surrounding school desegregation in Wilmington, North Carolina, culminated in four days of violence and skirmishes between white vigilantes and black residents. The turmoil resulted in two deaths, six injuries, more than $500,000 in damage, and the firebombing of a white-owned store, before the National Guard restored uneasy peace. Despite glaring irregularities in the subsequent trial, ten young persons were convicted of arson and conspiracy and then sentenced to a total of 282 years in prison. They became known internationally as the Wilmington Ten. A powerful movement arose within North Carolina and beyond to demand their freedom, and after several witnesses admitted to perjury, a federal appeals court, also citing prosecutorial misconduct, overturned the convictions in 1980.

Kenneth Janken narrates the dramatic story of the Ten, connecting their story to a larger arc of Black Power and the transformation of post-Civil Rights era political organizing. Grounded in extensive interviews, newly declassified government documents, and archival research, this book thoroughly examines the 1971 events and the subsequent movement for justice that strongly influenced the wider African American freedom struggle. 
Reviews:

"Kenneth Janken provides us unique insights into one of the many violent battles in America's misrepresented racial war of the 1960s and 1970s--a war that has quieted but not ended."--John Sayles, director of Matewan and author of A Moment in the Sun
A passionate, intensely engaging portrait of the group's initial mission, as well as the terrible personal lifelong toll the struggle took.-- Kirkus Reviews
About the Author:
Kenneth Janken is professor of African American and Diaspora studies at the University of North Carolina at Chapel Hill.