---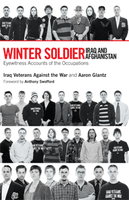 by Iraq Veterans Against the War and Aaron Glantz
Photographs by Jared Rodriguez and Mike Hastie
Haymarket Books
2008, paperback
SKU: 9781931859653
"The only way this war is going to end is if the American people truly understand what we have done in their name."--Kelly Dougherty, executive director of Iraq Veterans Against the War
In Spring 2008, inspired by the Vietnam-era Winter Soldier hearings, Iraq Veterans Against the War gathered veterans to expose war crimes in Afghanistan and Iraq. Here are the powerful words, images, and documents of this historic gathering, which show the reality of life in Afghanistan and Iraq.
Iraq Veterans Against the War argues that well-publicized incidents of American brutality like the Abu Ghraib prison scandal and the massacre of an entire family of Iraqis in the town of Haditha are not the isolated incidents perpetrated by "a few bad apples," as many politicians and military leaders have claimed. They are part of a pattern, the group says, of "an increasingly bloody occupation."
Reviews:
"Here is the war as it should be reported, seeing the pain, refusing to sanitize an unprovoked attack that has killed over one million people. All over America are victims who have returned from this conflict with hideous wounds -- wounds that turn the lives of the entire family upside down. And the American people are not seeing this. Until now. Winter Soldier, an enormously important project of Iraq Veterans Against the War, cuts this debacle to the bone, exposing details hard to come by and even harder to believe. This is must reading for patriots who have already begun the effort to insure that this never happens again."--Phil Donahue
"Winter Soldier makes us feel the pain and despair endured by those who serve in a military stretched to the breaking point by stop-loss policies, multiple combat tours, and a war where the goals and the enemies keep shifting ... [and] also make[s] us admire the unbreakable idealism and hope of those men and women who still believe that by speaking out they can make things better both for themselves and for those who come after them."--San Francisco Chronicle
Formed in the aftermath of the US invasions of Iraq and Afghanistan, Iraq Veterans Against the War (IVAW) was founded in 2004 to give those who have served in the military since September 11, 2001, a way to come together and speak out against an unjust, illegal, and unwinnable war. Today, IVAW has over seven hundred members in forty-nine states, Washington, DC, Canada, and on military bases overseas.
Aaron Glantz is an independent journalist who has covered the Iraq War from the front lines. He is the author of How America Lost Iraq (Tarcher) and a forthcoming book on the Iraq War from the University of California Press.
Anthony Swofford is the author of Jarhead: A Marine's Chronicle of the Gulf War and Other Battles.