---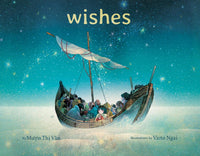 by Mượn Thị Văn, Illustrated by Victo Ngai
Orchard Books
5/4/2021, hardcover
SKU: 9781338305890
An arresting, poetic journey and a moving reflection on immigration, family, and home, from an acclaimed creative team.
Wishes tells the powerful, honest story about one Vietnamese family's search for a new home on the other side of the world, and the long-lasting and powerful impact that makes on one of the youngest members of the family. Inspired by actual events in the author's life, this is a narrative that is both timely and timeless. Told through the eyes of a young girl, the story chronicles a family's difficult and powerful journey to pack up what they can carry and to leave their world behind, traveling to a new and unknown place in a crowded boat.
With sparse, poetic, and lyrical text from acclaimed author Mượn Thị Văn, thoughtful back matter about the author's connection to the story, and luminous, stunning illustrations from Forbes 30 Under 30 honoree Victo Ngai, Wishes tells a powerful and timely story in a gentle and approachable way for young children and their families.
Target age: 4 to 8
Reviews:
"A heart-wrenching journey captured via the wishes of the light, the night, a dream, the sea, and more. A universal story of leaving and arriving and remembering, illuminated by wistful and lush illustrations. Most ancestors have taken this journey during one century or another. WISHES encapsulates our commonality, our humanity, our wish for safety for ourselves and our families." --Pam Muñoz Ryan, author of Mañanaland and the Newbery Honor Book, Echo.
"With spare, 'packs-a-punch' text and lush illustrations, this journey of leaving home to begin anew nearly took my breath away." -- Tami Charles, New York Times bestselling author of All Because You Matter
"It is incredible how you can say so much with so little. Like a perfect marriage, the words and pictures of WISHES complete each other, bringing the reader along an epic journey full of experiences and emotions within just 17 spreads and 75 words. I was immediately moved to tears. --Yuko Shimizu, illustrator of the Caldecott Honor Book, The Cat Man of Aleppo
About the Contributors:
Muon Thi Van stitches stories by starlight and by daylight. Some of these stories become books, and some of these books are read around the world. Since her New York Times acclaimed debut, In a Village by the Sea, illustrated by April Chu, Muon's books have received many distinctions, including a Northern California Book Award, a Golden Kite Award, a New York Public Library Best Book, a Kirkus Reviews Best Book, a Junior Library Guild Selection, and an Irma Black Honor Award. Her work has been translated into more than ten languages.  

Victo Ngai is a Forbes 30 Under 30 (Art and Style) honoree and Society of Illustrators New York Gold Medalist. She provides illustrations for newspaper and magazines such as the New York Times and the New Yorker; creates storyboards and art for animations with studios like NBC and Dreamworks; and makes books for publishers such as Scholastic, Penguin Random House, and Simon & Schuster. She lives in Los Angeles.