---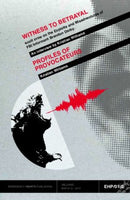 by Kristian Williams
Contribution by scott crow
Emergency Hearts Publishing
2015, paperback
SKU: 9781939202123
This book is comprised of two related pieces covering recent cases of informants and agent provocateurs in the US. Part one, "Witness to Betrayal" is a long form interview with scott crow conducted by author Kristian Williams. In the interview, crow bares all in his most comprehensive conversation about FBI informant Brandon Darby, their complicated relationship and the fallout from Brandon's actions personally and politically in wider movements.
Part two is an essay by Kristian Williams "Profiles of Provocateurs" which analyzes recent case studies of the use of agents provocateurs in political prosecutions, offers some warning signs of agents in these cases and practical advice on taking care of ourselves in the face of repression.
Kristian Williams is the author, most recently, of Hurt: Notes on Torture in a Modern Democracy (Microcosm, 2012). His first book, Our Enemies in Blue: Police and Power in America, was initially published in 2004, and has been re-released by South End. He was a co-editor of the recent book Life During Wartime (AK Press, 2013). His work on policing and torture has also appeared in Counterpunch, New Politics, In These Times, and in the collection Confrontations (Tarantula Publishing, 2007).
scott crow is a speaker and author. He has spent his varied life as a coop business owner, political organizer and educator, strategist, and underground musician who is a proponent of the philosophy and practices of anarchism. He is the author of the acclaimed book Black Flags and Windmills: Hope, Anarchy and the Common Ground Collective (PM Press). He was under surveillance by the FBI as an alleged domestic terrorist threat for a decade without charges being brought.