---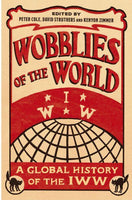 Edited by Peter Cole, David Struthers, and Kenyon Zimmer
Pluto Press
10/20/2017, paperback
SKU:  9780745399591
Founded in 1905, Chicago's Industrial Workers of the World (IWW) is a union unlike any other. With members affectionately called "Wobblies" and an evolutionary and internationalist philosophy and tactics, it rapidly grew across the world. Considering the history of the IWW from an international perspective for the first time, Wobblies of the World brings together a group of leading scholars to present a lively collection of accounts from thirteen diverse countries, revealing a fascinating story of anarchism, syndicalism, and socialism.
Drawing on many important figures of the movement--Har Dayal, James Larkin, William D. "Big Bill" Haywood, Enrique Flores Magón, and more--the contributors describe how the IWW and its ideals spread, exploring the crucial role the IWW played in industries such as shipping, mining, and agriculture. Ultimately, the book illuminates Wobblie methods of organizing, forms of expression, practices, and transnational issues, offering a fascinating alternative history of the group. 
Reviews:
"Convincing proof that the Wob message is universal, and the stamp of Wob greatness remains." -- "Truthout"
"As a second-generation member of the IWW, I am delighted to see this outstanding collection of essays on the Wobblies, their achievements, and their substantial impact despite severe repression."--Noam Chomsky "Against the Current"
About the Contributors:
Peter Cole is professor of history at Western Illinois University and the author of Wobblies on the Waterfront.
David M. Struthers is a historian of race and transnational radical organizer based in Copenhagen.
Kenyon Zimmer is assistant professor of history at the University of Texas and the author of Immigrants Against the State.