---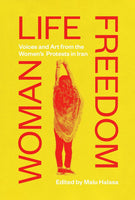 Edited by Malu Halasa
Saqi Books
11/7/2023, paperback
SKU: 9780863569722
Jina Mahsa Amini's death at the hands of Iran's Morality Police on 16 September 2022 sparked widespread protests across the country. Women took to the streets, uncovering their hair, burning headscarves and chanting ' Woman Life Freedom' - 'Zan Zendegi Azadi' in Persian and 'Jin Jîyan Azadî' in Kurdish - in mass demonstrations. An explosion of creative resistance followed as art and photography shared online went viral and people around the world saw what was really going on in Iran. Woman Life Freedom captures this historic moment in artwork and first-person accounts. This striking collection goes behind the scenes at forbidden fashion shows; records the sound of dissent in Iran where it is illegal for women to sing unaccompanied in public; and walks the streets of Tehran with ' The Smarties' - Gen Z women who colour and show their hair in defiance of the authorities, despite the potentially devastating consequences. Extolling the power of art, writing and body politics - both female and queer - this collection is a universal rallying call and a celebration of the women the regime has tried and failed to silence.
This is what protest looks like.
Reviews:
"These writers and artists are real life heroes, writing in real time as history unfolds, letting the rest of us know how audacity is done. We need more of THIS!" -- Negin Farsad, author How to Make White People Laugh, writer, director, and star of the hit documentary The Muslims are Coming!
"This moving collection offers a clear understanding of why Iranian women are protesting for freedom and their rights. These women are fearless, brave and utterly powerful." -- Nazanin Zaghari-Ratcliffe, who spent six years incarcerated in Tehran

"These women appeal to our hearts and souls. Through art and true stories, they reveal the truth against the regime's lies and give birth to a new reality, one in which Life means Freedom." -- Azar Nafisi, author Reading Lolita in Tehran

"Halasa... assembles searing essays, interviews, photos, and art inspired by the protests for women's rights that spread through Iran starting in 2022. Pulling together diverse voices from Iran and abroad, Halasa paints an affecting and sometimes painfully visceral picture of Iranian women's fight for freedom. This leaves a mark." -- Publishers Weekly
About the Editor:
Malu Halasa is a writer and editor based in London. She is the editor of several anthologies on Middle Eastern art and culture, including Transit Tehran: Young Iran and Its Inspirations, and Kaveh Golestan: Recording the Truth in Iran. Halasa founded Tank magazine and has written for The Guardian, Financial Times and Times Literary Supplement. She is currently literary editor at Middle Eastern arts magazine The Markaz Review.