---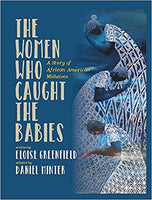 by Eloise Greenfield, illustrated by Daniel Minter
Alazar Press
9/1/2019, hardcover
SKU: 9780997772074
The Women Who Caught the Babies highlights important aspects of the training and work of African-American midwives and the ways in which they have helped, and continue to help, so many families by "catching" their babies at birth. The blend of Eloise Greenfield's poetry and Daniel Minter's art evokes heartfelt appreciation of the abilities of African-American midwifes over the course of time. The poem "Africa to America" begins the poetic journey. The poem "The Women" both heralds the poetry/art pairing and concludes it with a note of gratitude. Also included is a piece titled "Miss Rovenia Mayo," which pays tribute to the midwife who caught newborn Eloise.
Reviews:

"The Women Who Caught The Babies is a Masterpiece of Art and Writing! It deserves RESOUNDING Praise and Awards!" --Ashley Bryan

"... the verses capture the powerful, loving, and unwavering work of these women, who guided humans into the world "with gentle, loving hands." The verses are accompanied by Minter's dramatic portraits ... of women and babies ... filled with symbolic patterns and images." --Julie Danielson, "Seven Impossible Things Before Breakfast"
"This poetic tale chronicles the presence and contributions of African American midwives. Rites of passage incandescently brought to light." --Vicky Smith, Kirkus Reviews
About the author:

With many award-winning books to her credit, Eloise Greenfield has achieved her status among the most celebrated of children's authors. Multiple lifetime achievement awards include a Living Legacy Award, a Hope S. Dean Award, an NCTE Award for Excellence in Poetry for Children among others. She has been inducted into the National Literary Hall of Fame for Writers of African Descent. Africa Dream received the Coretta Scott King Award while the Coretta Scott King Author Honor and an ALA 2012 Notable Children's book honored her title, The Great Migration: Journey to the North. Daniel Minter is an artist whose paintings, carvings, block prints, and sculptures have been exhibited both nationally and internationally at galleries and museums, including the Seattle Art Museum, Tacoma Art Museum, Bates College, Hammonds House Museum, Northwest African American Art Museum, Museu Jorge Amado and the Meridian International Center. Minter is the co-founder and creative visionary of the Portland Freedom Trail and serves on the board of The Ashley Bryan Center, The Illustration Institute.