---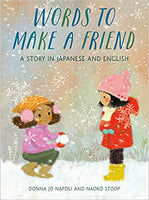 by Donna Jo Napoli and Illustrated by Naoko Stoop
Random House Studio
11/9/2021, hardcover
SKU: 9780593122273

A clever and innovative bilingual English/Japanese picture book about a Japanese girl and an American girl who prove you don't need to speak the same language to understand each other.
When a young Japanese girl moves into her new house, she is happy to see a girl her age playing in the snow just outside her window. The only problem is the Japanese girl doesn't speak English and the American girl doesn't speak Japanese.
How will these two girls have any fun at all? As it turns out, it's not that hard when both girls are looking for a friend! What starts with a simple hello and konnichiwa becomes a day filled with fun in the snow.
Each girl's love of play, snow, and making a new friend transcends the need to speak the same language, and by using simple words in their own languages, along with a bit of charades, the girls find they have all they need to build a snow creature.
An important book to show children that speaking the same language isn't a prerequisite to making a new friend.
Target age: 4-7
About the Contributors:
Donna Jo Napoli is both a linguist and a writer of children's and young adult fiction. Some of her work includes Treasury of Greek Mythology, Stones in Water, Treasury of Norse Mythology, and Daughter of Venice. She has five children and eight grandchildren. She dreams of moving to the woods and becoming a naturalist. She loves to garden, bake bread, dance, and make pottery.

Naoko Stoop is a Brooklyn-based, self-taught illustrator. She grew up in Tokyo and has illustrated many picture books including Pup and Bear, Sun and Moon Have a Tea Party, and the New York Times Best Illustrated Picture Book Red Knit Cap Girl.