---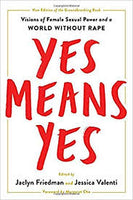 by Laclyn Friedman, Jessica Valenti
Seal Press
3/5/2019, paperback
SKU: 9781580058988
This groundbreaking feminist classic dismantles the way we view rape in our culture and replaces it with a genuine understanding and respect for female sexual pleasure.
In the original edition, feminist, political, and activist writers alike presented their ideas for a paradigm shift from the "No Means No" model--and the result was the groundbreaking shift to today's affirmative consent model ("Yes Means Yes," as coined by this book).
With a timely new introduction, refreshed cover, and the timeless contributions of authors from Kate Harding to Jill Filipovic, Yes Means Yes brings to the table a dazzling variety of perspectives and experiences focused on the theory that educating all people to value female sexuality and pleasure leads to viewing women differently, and ending rape. Yes Means Yes has radical and far-reaching effects: from teaching men to treat women as collaborators and not conquests, encouraging men and women that women can enjoy sex instead of being shamed for it, and ultimately, that our children can inherit a world where rape is rare and swiftly punished.
About the Author:
Jaclyn Friedman's work has redefined the concept of "healthy sexuality" and popularized the "yes means yes" standard of sexual consent that is quickly becoming law on many U.S. campuses. She is a popular speaker, opinion writer and author of What You Really Really Want and Unscrewed. She is also founder and the former Executive Director of Women, Action & the Media, where she led the successful #FBrape campaign to apply Facebook's hate-speech ban to content that promotes gender-based violence. She hosts Unscrewed, a podcast exploring paths to sexual liberation, named a Best Sex Podcast by both Marie Claire and Esquire.
Jessica Valenti is the author of multiple books on feminism, politics and culture. She is also the founder of Feministing.com, which Columbia Journalism Review called "head and shoulders above almost any writing on women's issues in mainstream media."Her writing has appeared in publications like The New York Times, The Washington Post, The Nation, and Ms. magazine. She is currently a columnist at the Guardian US. Jessica lives in Brooklyn with her husband and daughter.