---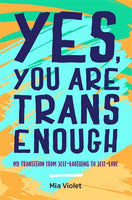 by Mia Violet
Jessica Kingsley Publishers
6/21/2018, paperback
SKU: 9781785923159
This is the deeply personal and witty account of growing up as the kid who never fitted in. Transgender blogger Mia Violet reflects on her life and how at 26 she came to finally realize she was 'trans enough' to be transgender, after years of knowing she was different but without the language to understand why.
From bullying, heartache and a botched coming out attempt, through to counseling, Gender Identity Clinics and acceptance, Mia confronts the ins and outs of transitioning, using her charged personal narrative to explore the inaccuracies of trans representation and confront what the media has gotten wrong.
Deeply affecting, and narrated with warmth and honesty, this is an essential read for anyone who has had to fight to be themselves.
Reviews:

"Honest, raw, moving: this intimate blow by blow account of a young trans woman's odyssey to personal acceptance and authenticity really ought to be compulsory reading for anyone who ever thought in ignorance that a change of gender was a whimsical adventure." -- Christine Burns MBE, author and transgender activist
An honest, quirky and personal story that gives valuable insight into the life of trans people. In the midst of storm of misinformation of trans people, this book serves as one of many that tell the stories of trans people from an authentic and an engaging perspective. Radical vulnerability at its finest. -- Owl Fisher, co-author of Trans Teen Survival Guide and co-director of My Genderation
About the Author:
Mia Violet is a bisexual trans woman who has been documenting her transition online. She is based in the UK and has written articles for Huffington Post, Bustle, and The F Word.