---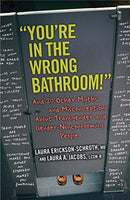 by Laura Erickson-Schroth and Laura A. Jacobs
Beacon Press
5/30/2017, paperback
SKU: 9780807033890
From Laverne Cox and Caitlyn Jenner to Thomas Beatie ("the pregnant man") and transgender youth, coverage of trans lives has been exploding--yet so much misinformation persists. Bringing together the medical, social, psychological, and political aspects of being trans in the United States today, "You're in the Wrong Bathroom!" And 20 Other Myths About Transgender and Gender-Nonconforming People unpacks the twenty-one most common myths and misconceptions about transgender and gender-nonconforming people. Authors Laura Erickson-Schroth, MD, a psychiatrist, and Laura A. Jacobs, LCSW-R, a psychotherapist, address a range of fallacies:
Trans People Are "Trapped in the Wrong Body"
You're Not Really Trans If You Haven't Had "the Surgery"
Trans People Are a Danger to Others, Especially Children
Trans People Are Mentally Ill and Therapy Can Change Them
Trans People and Feminists Don't Get Along
Reviews:
"The writing is clear, honest, and sensitive to the transgender population...A timely and worthwhile purchase for libraries as well as middle- and high-school counseling offices, community centers, and places of worship." --Booklist, Starred Review
"This timely publication addresses much of the misinformation about the trans community that persists despite increasing media coverage both popular and serious. The authors scrupulously present the range of different positions on each issue addressed, so anyone hoping for easy cut-and-dried answers will be forced to think again. The book, which will enlighten both general and specialist readers, includes a full range of documentary references, conferences, organizations, and sources of funding for the cause." --The New York Journal of Books
"This insightful and instructive primer clears up many common falsehoods about what it means to be trans or gender-nonconforming, without relying on dense political jargon or dry, specialized academic lingo. The book's clear, direct language and compassionate, no-nonsense approach helps dispel the confusion and bigotry that often overshadows public perception of transgender issues. . . .Buy this book and share it with our whole family." --Bust 
"A breath of fresh air. This book provides, with equal measures of scholarship and humanity, thoughtful pushback against the most common misconceptions, misunderstandings, and just plain lies about trans people and the people who love them. A book for everyone, You're in the Wrong Bathroom will open hearts, change minds, and save lives." --Jennifer Finney Boylan, author of She's Not There and Long Black Veil
"Amid all the misinformation about trans lives and people, this is a refreshingly accurate book that covers the most pernicious myths and also has the virtue of being written accessibly. Everyone from therapists and teachers to parents and young people will find the book invaluable." --Carol Bernstein, former president of the American Psychiatric Association
Biographical Note:

Laura Erickson-Schroth, MD, MA (New York, NY), is a psychiatrist working with LGBTQ people in New York City. She is the editor of Trans Bodies, Trans Selves, a resource guide written by and for transgender people. Find her at writerdoctor.com. 
Laura A. Jacobs, LCSW-R (New York, NY) is a trans and genderqueer-identified psychotherapist, writer, activist, and public speaker working with transgender and gender-nonconforming, LGBTQ+, and sexual/gender diversity issues.