---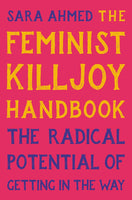 by Sara Ahmed
Seal Press
10/3/2023, hardcover
SKU: 9781541603752
A renowned feminist thinker argues we need to get in the way of happiness, our own and other people's, to build a more just world
Do you refuse to laugh at offensive jokes? Have you ever been accused of ruining dinner by pointing out your companion's sexist comment? Are you often told to stop being so "woke"? If so, you might be a feminist killjoy--and this handbook is for you. In this book, feminist theorist Sara Ahmed shows how killing joy can be a radical world-making project.
Presenting sharp analysis of literature, film, and influential feminist works, and drawing on her own experiences as a queer feminist scholar-activist of color, Ahmed reveals the invaluable lessons of the feminist killjoy, from the importance of asking questions to the power of the eye roll. The Feminist Killjoy Handbook offers an outstretched hand to feminist killjoys everywhere and an essential intellectual guide to the transformative power of getting in the way.
Reviews:
"Feminist books often encourage us to make the world a more just place, but without offering us the tools to navigate the inevitable pushback that we will likely encounter. Thankfully, Sara Ahmed's The Feminist Killjoy Handbook provides the latter. Simultaneously inspiring and practical--a wonderful guide for becoming a more powerful and thoughtful social justice activist in everyday situations." -- Julia Serano, author of Whipping Girl
"Sara Ahmed's profound reflection on the feminist killjoy is in fact a joyous experience for folks who understand the impact of the trivializing, displacement, and erasure of our anti-racist feminist commitments. The Feminist Killjoy Handbook (not a "how to" but a "living as a feminist" handbook) connects anti-racist feminists across generations and teaches us that living a feminist life/being a feminist killjoy is a joyful and collective form of resistance that is capacious enough to include us all. A moving and brilliant book that belongs in our libraries, homes, classrooms, and social movements." -- Chandra Talpade Mohanty, author of Feminism Without Borders
"Yes. This book should be in your hands, because it changes what we can do with our hands. Outstretched in collaboration, extended as a fence, raised in fists of protest, intertwined with visionary grace. Maybe you will even write on your hand to remember: after reading this book we have new possibilities for what our hands can mean." -- Alexis Pauline Gumbs, author of Undrowned
About the Author:
Sara Ahmed is a feminist writer and independent scholar who works at the intersection of feminist, queer, and race studies. Winner of the 2017 Kessler Award from CLAGS, the Center for LGBTQ Studies, Ahmed has published ten books, including the cult classic Living a Feminist Life. She lives in England.