---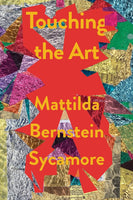 by Mattilda Bernstein Sycamore
Soft Skill
11/7/2023, hardcover
SKU: 9781593767358
A daringly observant memoir about intergenerational trauma, fine art, and compartmentalization from a returning Soft Skull author and Lambda Literary Award winner
A mixture of memoir, biography, criticism, and social history, Touching the Art is queer icon and activist Mattilda Bernstein Sycamore's interrogation of the possibilities of artistic striving, the limits of the middle-class mindset, the legacy of familial abandonment, and what art can and cannot do.
Taking the form of a self-directed research project, Sycamore recounts the legacy of her fraught relationship with her late grandmother, an abstract artist from Baltimore who encouraged Mattilda as a young artist, then disparaged Mattilda's work as "vulgar" and a "waste of talent" once it became unapologetically queer.
As she sorts through her grandmother Gladys's paintings and handmade paperworks, Sycamore examines the creative impulse itself. In fragments evoking the movements of memory, she searches for Gladys's place within the trajectories of midcentury modernism and Abstract Expressionism, Jewish assimilation and white flight, intergenerational trauma and class striving.
Sycamore writes, "Art is never just art, it is a history of feeling, a gap between sensations, a safety valve, an escape hatch, a sudden shift in the body, a clipboard full of flowers, a welcome mat flipped over and back, over and back, welcome."
Refusing easy answers in search of an embodied truth, Sycamore upends propriety to touch the art and feel everything that comes through.
Reviews:
"In Touching the Art, Sycamore responds to the call for white artists to reckon with our pasts, our connections to power and privilege. The scalpel she takes to her own family, both the education, access, and love of art they gave her, and the intense and ongoing violence they did to her and cannot face, is brutally laser sharp. In all the messily queer craftsmanship we've come to expect from her prose, she offers us a handhold and a way forward: Touch the art, fuck it up, get free. Art is a part of our liberation and our future, and Sycamore is trying to write us all free." -- Joseph Osmundson, author of Virology: Essays for the Living, the Dead, and the Small Things in Between
"Mattilda Bernstein Sycamore's Touching the Art is ekphrastic, intimate, historical, and proximate. The art of the title, paintings by Sycamore's grandmother Gladys Goldstein, appears only through description--and what description. We encounter the work, learn who Gladys was and who she was in relation to--how gentrification, redlining, and anti-blackness shape space, and how 'family' organizes itself to refuse confrontation and to excise queerness. Sycamore employs diverging yet deeply related histories. Touching the Art is an education, a beautiful instruction in feeling and looking." -- Christina Sharpe, author of In the Wake: On Blackness and Being and Ordinary Notes
"I love writers who take risks, who rattle cages, who overthrow the tables of the money changers, writers who can whisper truths or shout them fabulously from rooftops. Yes, I love Mattilda." -- Rabih Alameddine, author of The Wrong End of the Telescope
About the Author:
Mattilda Bernstein Sycamore is the author of The Freezer Door, a New York Times Editors' Choice, one of Oprah Magazine's Best LGBTQ Books of 2020, and a finalist for the PEN/Jean Stein Book Award. She's the author of three novels and three nonfiction titles, and the editor of six nonfiction anthologies, most recently Between Certain Death and a Possible Future: Queer Writing on Growing Up with the AIDS Crisis.