---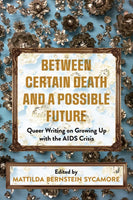 by Mattilda Bernstein Sycamore

Arsenal Pulp Press
10/5/2021, paperback
SKU: 9781551528502
Every queer person lives with the trauma of AIDS, and this plays out intergenerationally. Usually we hear about two generations--the first, coming of age in the era of gay liberation, and then watching entire circles of friends die of a mysterious illness as the government did nothing to intervene. And now we hear about younger people growing up with effective treatment and prevention available, unable to comprehend the magnitude of the loss. But there is another generation between these two, one that came of age in the midst of the epidemic with the belief that desire intrinsically led to death, and internalized this trauma as part of becoming queer.
Between Certain Death and a Possible Future: Queer Writing on Growing up with the AIDS Crisis offers crucial stories from this missing generation in AIDS literature and cultural politics. This wide-ranging collection includes 36 personal essays on the ongoing and persistent impact of the HIV/AIDS crisis in queer lives. Here you will find an expansive range of perspectives on a specific generational story--essays that explore and explode conventional wisdom, while also providing a necessary bridge between experiences. These essays respond, with eloquence and incisiveness, to the question: How do we reckon with the trauma that continues to this day, and imagine a way out?
Reviews:
"An exciting and important collection that reconvenes community and brings our hidden feelings and experiences of HIV again to light and to consciousness." --Sarah Schulman, author of Let the Record Show: A Political History of ACT UP New York, 1987-1993
"Between Certain Death and a Possible Future is a must-read for this moment, yet another juncture where we face the collision of brutal inequality, right-wing resurgence, and pandemic. This book is deeply personal, moving, and evocative, and at the same time has an enormous amount to teach us about the political and social conditions that have produced the social meanings of AIDS and sex that have shaped our lives." --Dean Spade, author of Mutual Aid: Building Solidarity During This Crisis (and the Next)
"I thought I knew everything about how the queer generation after mine was impacted by AIDS, but Sycamore's eye-opening anthology pierced my naive cockiness. I remember my life and sexual coming out before the AIDS crisis, but what if AIDS is all you've ever known? How did that define your queerness? Sycamore breaks open a dam of suppressed stories centered on stigma, from wildly diverse voices, pouring forth with startling honesty and resilience." --Peter Staley, author of Never Silent: ACT UP and My Life in Activism
"Between Certain Death and a Possible Future is an essential contribution to AIDS literature because it invites the reader to wrestle with the unceasing impact of HIV beyond the 'crisis years, ' beyond heroic activism, into under-explored narrative terrain where effective medical treatments redefined the ongoing epidemic from certain death to something else we're still figuring out, damaged but resilient, in search of a possible future." --Tony Valenzuela, writer and former executive director of the Foundation for the AIDS Monument and Lambda Literary
About the Author:
Mattilda Bernstein Sycamore is the author of two nonfiction titles and three novels, and the editor of five nonfiction anthologies. Her latest book, The Freezer Door, was a New York Times Editors' Choice, one of Oprah Magazine's Best LGBTQ Books of 2020, and a finalist for the PEN/Jean Stein Award. Her memoir, The End of San Francisco, won a Lambda Literary Award, and her novel Sketchtasy was one of NPR's Best Books of 2018. Her anthology Why Are Faggots So Afraid of Faggots?: Flaming Challenges to Masculinity, Objectification, and the Desire to Conform was an American Library Association Stonewall Honor Book.