---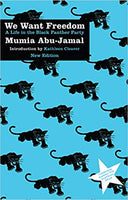 by Mumia Abu-Jamal
Common Notions
10/3/2016, paperback
SKU: 9781942173045
Mumia Abu Jamal, America's most famous political prisoner, is internationally known for his radio broadcasts and books emerging "Live from Death Row." In his youth Mumia Abu-Jamal helped found the Philadelphia branch of the Black Panther Party, wrote for the national newspaper, and began his life-long work of exposing the violence of the state as it manifests in entrenched poverty, endemic racism, and unending police brutality. In We Want Freedom, Mumia combines his memories of day-to-day life in the Party with analysis of the history of Black liberation struggles. The result is a vivid and compelling picture of the Black Panther Party and its legacy.
Applying his poetic voice and unsparing critical gaze, Mumia examines one of the most revolutionary and most misrepresented groups in the US. As the calls that Black Lives Matter continue to grow louder, Mumia connects the historic dots in this revised/updated edition, observing that the Panthers had legal observers to monitor the police and demanded the "immediate end to police brutality and the murder of Black people." By focusing on the men and women who were the Party, as much as on the leadership; by locating the Black Panthers in a struggle centuries old--and in the personal memories of a young man--Mumia Abu-Jamal helps us to understand freedom.
Reviews:
This book amazed and delighted me. I'm still not sure how Mumia has managed--from a maximum-security prison cell--to encompass in one book the broad scope of US history, a global perspective, and many intimate, first-hand accounts of life, love and politics in the Black Panther Party. Mumia tells this story with such energy and passion that reading it, I felt I'd returned to the storefronts and battlefronts of the 60s and 70s. This is the Black Panther Party--and the social movements to which it was connected--in its historical context, its hopes and triumphs, as well as its tragedies and limitations. It is a story fundamental to understanding the US of the 20th and 21st centuries, and I am eternally grateful to Mumia Abu-Jamal for having written it. --Laura Whitehorn, former political prisoner
Mumia Abu-Jamal speaks in a voice as timeless as the resistance to oppression he personifies. His words, his mind--indeed, his life itself--stand as inspiration to all of us who yearn for liberation, exemplifying the continuities of struggle joining one generation to the next in our common effort to attain the dignity of human freedom. This book is as necessary as it is unavoidable. It simply must be read by everyone endowed with the least twinge of social conscience. --Ward Churchill, the American Indian Movement
An important and timely read, now as much as ever. In this new edition of We Want Freedom, Mumia provides with clarity and force the historical context for the Black Lives Matter movement--anchoring Black struggle in a long history of militant self-defense. This book is both a guide and a light: full of hope, lessons, challenges, and profound insight into our collective struggle for freedom. I encourage all organizers, new and seasoned, to read and discuss with your people. --Page May, co-founder of Assata's Daughters
About the Author:
Mumia Abu-Jamal is an award-winning journalist and former Black Panther Party member whose previous books include Live From Death Row, Death Blossoms: Reflections from a Prisoner of Conscience, All Things Censored, and Faith of our Fathers: An Examination of the Spiritual Life of African and African-American People. America's best-known political prisoner, he has been living in Pennsylvania prisons since 1982, the majority of those on death row.