---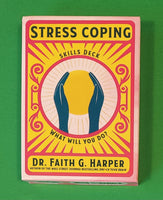 by Faith G. Harper
Microcosm Publishing
2023, card deck
SKU: 9781648412776
We live in an era when stress is a way of life and can seem inescapable. But stress doesn't have to run our lives, and it can even be our friend, according to Dr. Faith G. Harper, bestselling author of titles like Unfuck Your Brain, Unfuck Your Body, and Unfuck Your Stress. 
This 52-card deck offers exercises, reflections, and conversation starters to help us tackle the stressful situations and relationships in our lives. Two types of cards can be mixed together or used separately: Survive cards provide short-term strategies you can use to find focus and purpose in difficult moments; Thrive cards offer longer-term strategies to change your relationship with stress, helping you shift your perspective, assumptions, habits, and self-talk so that intense feelings can motivate rather than overwhelm you. 
Use these cards on your own or with your partner, a friend, or your therapist to build confidence and trust in your ability to handle whatever the world throws at you.
Part of the Five Minute Therapy Series.
About the Author:
Faith G. Harper, PhD, LPC-S, ACS, ACN is a bad-ass, funny lady with a PhD. She's a licensed professional counselor, board supervisor, certified sexologist, and applied clinical nutritionist with a private practice and consulting business in San Antonio, TX. She has been an adjunct professor and a TEDx presenter, and proudly identifies as a woman of color and uppity intersectional feminist. She is the author of the book Unf*ck Your Brain and many other popular zines and books on subjects such as anxiety, depression, and grief. She is available as a public speaker and for corporate and clinical trainings.