---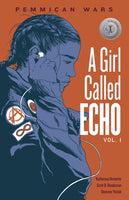 by Katherena Vermette, illustrated by Scott B. Henderson and Donovan Yaciuk
Highwater Press
3/1/2018, paperback
SKU: 9781553796787
Echo Desjardins, a 13-year-old Mâetis girl adjusting to a new home and school, is struggling with loneliness while separated from her mother. Then an ordinary day in Mr. Bee's history class turns extraordinary, and Echo's life will never be the same. During Mr. Bee's lecture, Echo finds herself transported to another time and place--a bison hunt on the Saskatchewan prairie--and back again to the present. In the following weeks, Echo slips back and forth in time. She visits a Mâetis camp, travels the old fur-trade routes, and experiences the perilous and bygone era of the Pemmican Wars.
Target age: 12 to 14
Reviews:
"In this YA graphic novel, an alienated Métis girl learns about her people's Canadian history. [...] A sparse, beautifully drawn story about a teen discovering her heritage." -- Kirkus Reviews
"Henderson's realistic art and perfect pacing, particularly in the pages of wordless panels depicting Echo's daily routine, highlight her silent nature and hint at the source of her unspoken sadness. Solitary teens are likely to strongly identify with Echo and look forward to more of her adventures." -- Booklist
About the Contributors:

Katherena Vermette is a Métis writer from Treaty 1 territory, the heart of the Métis Nation, Winnipeg, Manitoba, Canada. Her first book, North End Love Songs (The Muses Company) won the Governor General's Literary Award for Poetry. Her National Film Board documentary, this river, won the 2017 Canadian Screen Award for Best Short, and her novel, The Break (House of Anansi), won the 2017 Amazon.ca First Novel Award. She is the author of numerous other bestselling titles, including the A Girl Called Echo series and the Seven Teachings Stories series as well as "Annie of Red River" in This Place: 150 Years Retold. She holds a Master of Fine Arts from the University of British Columbia, and lives in Winnipeg, Manitoba.
Scott B. Henderson (he/him/his) is author/artist of the sci-fi/fantasy comic The Chronicles of Era and has illustrated select titles in the Tales From Big Spirit series, as well as the A Girl Called Echo, The Reckoner Rises, and 7 Generations series. He is also the artist for AIYLA Honour Book Fire Starters, Eisner Award-nominee A Blanket of Butterflies, and select stories in This Place: 150 Years Retold. In 2016, he was the recipient of the C4 Central Canada Comic Con Storyteller Award
Donovan Yaciuk (he/him/his) has done coloring work on books published by Marvel, DC, Dark Horse comics, and HighWater Press including the A Girl Called Echo and The Reckoner Rises series, as well as select stories in This Place: 150 Years Retold. Donovan holds a Bachelor of Fine Arts (Honours) from the University of Manitoba and began his career as a part of the legendary, now-defunct Digital Chameleon colouring studio. He lives in Winnipeg, MB Canada, with his wife and two daughters.