---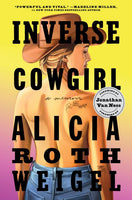 by Alicia Roth Weigel
HarperOne
9/19/22023, paperback
SKU: 9780063295285
From a celebrated activist on the forefront of fighting for intersex representation and rights--and a subject of the forthcoming documentary Every Body, from the filmmakers behind RBG--a funny, thought-provoking collection of essays about owning your identity and living your truth.
Two percent of the world's population--the same percentage of humans who have naturally red hair--is born intersex. Yet many people aren't even familiar with the word. Intersex individuals are born with both male and female reproductive organs, yet many are stripped of their identity at birth when a parent designates M or F on a birth certificate. That subjective choice is often followed by invasive, life-changing surgeries, performed without the individual's consent. Intersex people have become a target of politicians, attacked for who they are and threatened by legislation that attempts to categorize and define them.
Alicia Weigel is fighting back against the hate and fearmongering to protect the rights and lives of everyone. As an activist and the Human Rights Commissioner for the City of Austin, Alicia has championed legislation to reduce sexual assault and human trafficking, mandate paid sick leave and abortion funding, decriminalize and alleviate homelessness, and target other social determinants of health. In this book, Alicia boldly speaks out about working as a change agent in a state that actively attempts to pass legislation that would erase her existence, explores how we can reclaim bodily autonomy, and encourages us to amplify our voices to be heard. Disarming, funny, charming, and powerful, this is a vital account of personal accomplishment that will open eyes and change minds.
Foreword by Jonathan Van Ness
Reviews:
"Alicia is a force of nature, indeed. Shimmering with empathy, even for those who most mistreated her, Inverse Cowgirl charts a brave new course for the world. In one book, Alicia manages to singlehandedly shatter notions of sex, gender, and politics as we know them, clearing the way for a brighter, better, and more liberated future. Slip on your cow-them boots, hop on the justice pony, and get ready for one helluva ride, because this is not a book you can afford to miss." -- Jacob Tobia, bestselling author of Sissy: A Coming-of-Gender Story
"In a society that continually reduces intersex existence to a theory or a metaphor, Inverse Cowgirl is a powerful intervention that affirms the dignity and full humanity of intersex people. With equal measure of heart and humor, Alicia Roth Weigel takes us on a trip from the personal to the political, establishing herself as an essential voice for autonomy and democracy." -- ALOK, author of Beyond the Gender Binary
"Insightful, fierce, and candid, this book is a welcome addition to the growing body of personal accounts about living as a member of one of the most marginalized, silenced, and misunderstood of sexual minorities. ... An inspiring, eye-opening memoir that will educate many readers." -- Kirkus Reviews
About the Author:
Alicia Roth Weigel is a writer and activist working to improve the political and social landscape for marginalized populations in the South and worldwide through her firm, Intrepida Strategy. As a partner for the Pride Fund, Alicia is raising and deploying capital to grow LGBTQIA+-led companies in Texas and beyond. A Human Rights Commissioner for the City of Austin, she continually advocates for the rights of intersex people like her, work for which she was awarded the Ceci Gratias Guardian Award by the Austin LGBT Chamber of Commerce in 2019. Over the past decade, Alicia has helmed nonprofits and political campaigns and has held various marketing and business development roles in Brazil, Angola, South Africa, and throughout the US. Alicia is committed to fostering body autonomy and culturally competent healthcare for all. She has written for the New York Times, the Austin Chronicle, and Girls Globe, and has been featured in Austin Women, the Daily Mail, and Forbes, among many others. She lives in Austin, Texas.