---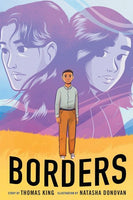 by Thomas King, Illustrated by
Little, Brown Ink
1/18/2022, paperback
SKU: 9780316593052
From celebrated Indigenous author Thomas King and award-winning Métis artist Natasha Donovan comes a powerful graphic novel about a family caught between nations.
Borders is a masterfully told story of a boy and his mother whose road trip is thwarted at the border when they identify their citizenship as Blackfoot. Refusing to identify as either American or Canadian first bars their entry into the US, and then their return into Canada. In the limbo between countries, they find power in their connection to their identity and to each other.
Target age: 8 to 12
Reviews:
"This sobering yet inspiring tale effectively spotlights a Native woman who quietly demands that her voice be heard and her identity recognized." -- Publishers Weekly
"The story highlights both the universal feelings of a family moving apart and a very specific Indigenous experience." -- Kirkus

"An important and accessible modern tale about the ongoing lack of recognition by colonizers for the Indigenous communities who continue to exist on their ancestral lands." -- School Library Journal
About the Contributors:
Thomas King has written several highly acclaimed children's books including A Coyote Solstice Tale (illustrated by Gary Clement) which won the American Indian Library Association Youth Literature Award for Best Picture Book and A Coyote Columbus Story (illustrated by Kent Monkman) which was a Governor General's Award finalist. King, who is of Cherokee and Greek descent and was born in California, was chair of American Indian Studies at the University of Minnesota before moving to University of Guelph in Ontario, Canada. He recently won a Governor General's Award for his adult novel, The Back of the Turtle; he won both the BC National Award for Canadian Nonfiction and the RBC Taylor Prize for The Inconvenient Indian.
Natasha Donovan is a Métis illustrator with a focus on comics and children's illustration. She has illustrated several award-winning children's books including The Sockeye Mother by Brett Huson and the graphic novel Surviving the City by Tasha Spillett-Sumner. She has a degree in Anthropology from the University of British Columbia, and has worked in academic and magazine publishing. She currently lives in Bellingham, Washington