---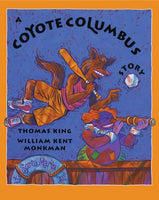 by Thomas King, Illustrated by William Kent Monkman
Groundwood Books

9/1/2007, paperback

SKU: 9780888998309
A retelling of the Christopher Columbus story from a Native point of view turns this tale on its ear!
Coyote, the trickster, creates the world and all the creatures in it. She is able to control all events to her advantage until a funny-looking red-haired man named Columbus changes her plans. He is unimpressed by the wealth of moose, turtles and beavers in Coyote's land. Instead he is interested in the human beings he can take to sell in Spain.
Thomas King uses a bag of literary tricks to shatter the stereotypes surrounding Columbus's voyages. In doing so, he invites children to laugh with him at the crazy antics of Coyote, who unwittingly allows Columbus to bring about the downfall of her human friends. And he makes the point that history is influenced by the culture of the reporter.
Target age: 5 to 8
Reviews:
"...very funny, provocative, and offers a unique and absolutely engaging point of view." -- "Toronto Star"
"..what Coyote captures...is the spirit of cheekiness, a bold, outrageous iconoclastic energy that incorporates warmth and inclusiveness." -- "Horn Book"
"What seems a funny romp turns out to have a very sharp edge. This irreverent treatment of Columbus and his fellows may be disquieting to some, but it is long overdue." -- "School Library Journal"
About the Contributors:
Thomas King has written several highly acclaimed children's books. A Coyote Solstice Tale, illustrated by Gary Clement, won the American Indian Library Association Youth Literature Award for Best Picture Book and A Coyote Columbus Story, illustrated by William Kent Monkman, was a Governor General's Award finalist. He was a Professor of English at the University of Guelph for many years, where he taught Native Literature and Creative Writing. He won the Governor General's Award for his adult novel, The Back of the Turtle, and he has been nominated for the Commonwealth Writers Prize.
William Kent Monkman is a filmmaker and visual artists whose paintings have been shown in galleries across North America. He lives in Toronto, Ontario.