---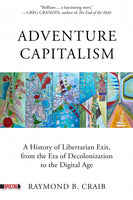 by Raymond Craib
PM Press
07/05/2022, paperback
SKU: 9781629639178
Imagine a capitalist paradise. 
An island utopia governed solely by the rules of the market and inspired by the fictions of Ayn Rand and Robinson Crusoe. Sound far-fetched? It may not be. The past half century is littered with the remains of such experiments in what Raymond Craib calls "libertarian exit." Often dismissed as little more than the dreams of crazy, rich Caucasians, exit strategies have been tried out from the southwest Pacific to the Caribbean, from the North Sea to the high seas, often with dire consequences for local inhabitants. Based on research in archives in the US, the UK, and Vanuatu, as well as in FBI files acquired through the Freedom of Information Act, Craib explores in careful detail the ideology and practice of libertarian exit and its place in the histories of contemporary capitalism, decolonization, empire, and oceans and islands. 
Adventure Capitalism is a global history that intersects with an array of figures: Fidel Castro and the Koch brothers, American segregationists and Melanesian socialists, Honolulu-based real estate speculators and British Special Branch spies, soldiers of fortune and English lords, Orange County engineers and Tongan navigators, CIA operatives and CBS news executives, and a new breed of techno-utopians and an old guard of Honduran coup leaders. This is not only a history of our time but, given the new iterations of privatized exit -- seasteads, free private cities, and space colonization -- it is also a history of our future.
Reviews:
"The libertarian quest for 'land no one is using' inevitably finds 'land that is used by all,' and the ugly conflation of the two sends the champions of personal liberty in search of guns, indentured servants, and death squads." -- Cory Doctorow, author of Little Brother,  Homeland,  Radicalized, and Attack Surface
"Some want to change the world, others to flee it. Raymond Craib has written a rich, fascinating account of the libertarians, gold hoarders, soldiers of fortune, coup plotters, and tech bros who've sought to realize free-market fantasies by seceding to small islands. It's an offbeat, quirky history -- until you realize how many of the hyper-rich share this escapist dream, and what that means for those of us without our own islands." -- Daniel Immerwahr, author of How to Hide an Empire: A History of the Greater United States
"To leave behind the 'system' and build independent societies based on your own convictions -- which radicals aren't enticed by the idea? Yet, as Raymond Craib shows in this highly informative and entertaining work, it is far from glorious when the driving force is a narrow-minded concept of individual liberty rather than the well-being of the people. The 'exit strategies' collected here are equally fascinating and frightening. They also help us understand how free-market secessionists and gung-ho libertarians are only the most extreme expressions of neoliberal hegemony." -- Gabriel Kuhn, author of Life Under the Jolly Roger: Reflections on Golden Age Piracy, Liberating Sápmi, Playing as if the World Mattered, and Turning Money into Rebellion.
About the Author:
Raymond Craib is the Marie Underhill Noll Professor of History at Cornell University and the author of The Cry of the Renegade: Politics and Poetry in Interwar Chile, Cartographic Mexico: A History of State Fixations and Fugitive Landscapes, and with Barry Maxwell, co-editor of No Gods No Masters No Peripheries: Global Anarchisms.