---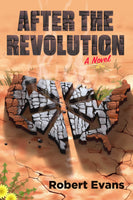 by Robert Evans
AK Press
5/10/2022, paperback
SKU: 9781849354622
This powerful debut novel from Robert Evans is based on his investigative reporting from international conflict zones and on increasingly polarized domestic struggles. It is a vision of our very possible future
What will the fracturing of the United States look like? After the Revolution is an edge-of-your-seat answer to that question. In the year 2070, twenty years after a civil war and societal collapse of the old United States, extremist militias battle in the crumbling Republic of Texas. As the violence spreads like wildfire and threatens the Free City of Austin, three unlikely allies will have to work together in an act of resistance to stop the advance of the forces of the white Christian ethnostate known as the Heavenly Kingdom.
Out three protagonists include Manny, a fixer that shuttles journalists in and out of war zones and provides footage for outside news agencies. Sasha is a teenage woman that joins the Heavenly Kingdom before she discovers the ugly truths behind their movement. Finally, we have Roland: A US Army vet kitted out with cyberware (including blood that heals major trauma wounds and a brain that can handle enough LSD to kill an elephant), tormented by broken memories, and 12,000 career kills under his belt.
In the not-so-distant world Evans conjures we find advanced technology, a gender expansive culture, and a roving Burning Man-like city fueled by hedonistic excess.
Reviews:
"Evans brings years of experience as a storyteller and a war correspondent into this remarkable debut. After the Revolution is somehow both realistic and fantastic, both
hopeful and sobering. It is both an introspective analysis of human society and a roaring and readable adventure." --Margaret Killjoy, author of A Country of Ghosts
"A fierce book: leftist military science fiction of the first order, full of transhuman ultraviolence and all-too-human consequences." --Cory Doctorow, author of Walkaway
"A world as deep as The Expanse, yet a story so close to home." --Chelsea Manning
About the Author:
Robert Evans, the author of A Brief History of Vice, has had an eclectic career as an investigative journalist reporting from war zones in Iraq, Syria, and Ukraine, and reporting on domestic radicalism in the US. He hosts the podcasts Behind the Bastards and It Could Happen Here for iHeartRadio, is a writer for the humor website Cracked, and an investigative journalist for Bellingcat.