---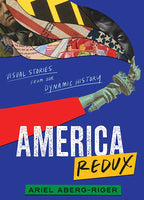 by Ariel Aberg-Riger
Balzer & Bray
5/2/2023, hardcover
SKU: 9780063057531
A critical, unflinching cultural history and fierce beacon of hope for a better future, America Redux is a necessary and galvanizing read.
What are the stories we tell ourselves about America?
How do they shape our sense of history,
cloud our perceptions,
inspire us?
America Redux explores the themes that create our shared sense of American identity and interrogates the myths we've been telling ourselves for centuries. With iconic American catchphrases as chapter titles, these twenty-one visual stories illuminate the astonishing, unexpected, sometimes darker sides of history that reverberate in our society to this very day--from the role of celebrity in immigration policy to the influence of one small group of white women on education to the effects of "progress" on housing and the environment, to the inspiring force of collective action and mutual aid across decades and among diverse groups.
Fully illustrated with collaged archival photographs, maps, documents, graphic elements, and handwritten text, this book is a dazzling, immersive experience that jumps around in time and will make you view history in a whole different light.
Target age: 14 and up
Reviews:
"In this pictorial stunner, debut creator Aberg-Riger demonstrates the U.S.'s continually expanding history via nonlinear chronology that covers ground between the late 18th century and the 21st century. Aberg-Riger examines how each individual story tackles issues surrounding identity in politics, allowing readers to make connections and interrogate how seemingly isolated societal struggles intersect with one another. This work enthralls from start to finish, culminating in a triumphant victory that tackles censorship and revisionist history." -- Publishers Weekly (starred review)
"This stellar offering combines startling facts, gripping prose, and appealing, vibrant collage illustrations that use photographs, maps, and other ephemera. Thought-provoking connections are made to today's burning issues, e.g., gun control, lack of affordable housing, and mass incarceration. Beautifully illustrated, riveting, enraging, and empowering: a must-read." -- Kirkus Reviews (starred review)
"In this interactive, visually stunning compilation, Aberg-Riger assembles some of the stories U.S. history textbooks typically leave out. While the themes encompass difficult topics, Aberg-Riger concludes many chapters with ways activists have changed and continue to change the course of these ongoing issues in America. An essential resource to promote perspective and dialogue around American identity." -- Booklist (starred review)
"America Redux is THE history book that belongs in every high school in America. Aberg-Riger has provided a necessary and insightful conversation about history that highlights the history makers we know so little about. America can't know where it's going unless it knows where it's been, and America Redux is the ultimate guide for that." -- Angie Thomas, New York Times bestselling author of The Hate U Give
"America Redux is RAD. Incredible to look at and fascinating to read. It's also badass, brilliant, fun, super clever, and utterly unflinching when it comes to telling the real and often brutal histories of these United States." -- Kate Schatz, New York Times-bestselling author of Rad American Women A-Z and Do the Work: An Antiracist Activity Book
About the Author:
Ariel Aberg-Riger is a visual storyteller who creates engaging, accessible stories about history, science, policy, and other forces that shape our lives. Her work explores issues of equity and social justice, on topics that range from environmental racism to the public library. Ariel's work has appeared in the Atlantic, the Guardian, Bloomberg, Teen Vogue, and more. She is a 2020 NYSCA/NYFA Artist Fellow in Nonfiction Literature and lives with her wife and two kids in Buffalo, New York.