---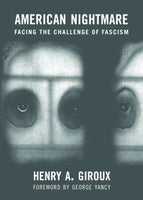 by Henry A. Giroux
City Lights Books
7/10/2018, paperback
SKU: 9780872867536
As white supremacy, ultra-nationalism, rabid misogyny and anti-immigrant fervor coalesce, a new and uniquely American form of fascism looms. Could our current moment actually bring about the end of democracy in the United States? Are Americans willing to surrender their freedom and dignity, along with their ongoing struggle for equality, justice and mutual respect in the face of the rising tide of political and ideological extremism?
In this provocative collection of essays, Henry Giroux warns of the consequences of doing too little as Trump and the so-called alt-right relentlessly attack critics, journalists, and target the hard-earned civil rights of women, people of color, immigrants, the working class, and low-income Americans. As we face down the frightening reality of living under a system that serves only the interests of the wealthy few, Giroux makes a passionate call for ordinary citizens to organize, educate, and resist by all available means.
A follow-up to Giroux's hugely successful book, America at War with Itself, which was published around the time of the 2016 election and sold out its print run within a month of publication.
Reviews:
"Giroux eloquently yet forcefully makes the case that the United States has indeed become a fascist state, embodying many of the characteristics of the regimes of the 20th century as well as current prototypes. ... Giroux argues Trump and his Trumpists not only emulate regimes of the past, but also bring to the table a new corporate authoritarianism that perpetually normalizes white supremacy, ignorance of the masses and massive concentrations of wealth in the hands of the few. ... American Nightmare is not only a conceptual analysis of fascism in the U.S., but also a massive wake-up call to the left."--Winnipeg Free Press
"Overall, this work is a highly articulate demolition of the Trump agenda, which comprehensively and briskly covers the many high crimes and propaganda tactics of an avowedly plutocratic, authoritarian administration."--New York Journal of Books
About the Author:
Henry A. Giroux is a world renowned educator, author and public intellectual. Giroux holds the McMaster University Chair for Scholarship in the Public Interest, and is the Paulo Freire Distinguished Scholar in Critical Pedagogy. His most recent books include, America at War with Itself; Disposable Futures: The Seduction of Violence in the Age of Spectacle with Brad Evans; America's Addiction to Terrorism; The Violence of Organized Forgetting; Zombie Politics and Culture in the Age of Casino Capitalism; On Critical Pedagogy; Education and the Crisis of Public Values; Twilight of the Social: Resurgent Publics in an Age of Disposability; Disposable Youth; Youth in Revolt; America's Education Deficit and the War on Youth. A prolific writer and political commentator, he writes regularly for Truthout and serves on their board of directors.