---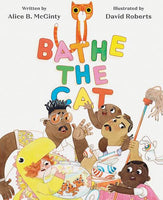 by Alice B. McGinty, illustrated by David Roberts
Chronicle Books
02/08/2022, hardcover
SKU: 9781452142708
Bathe the floor? Sweep the dishes? This riotous romp of a picture book follows a frantic family as they try to get some chores done -- with no help from the family cat, who keeps scrambling the list of chores with hilarious effects. Get ready for a rollicking read-aloud with a truly purrfect ending.
It's cleaning day, but the family cat will do anything to avoid getting a bath. So instead of mopping the floor or feeding the fish, the family is soon busy rocking the rug, vacuuming the lawn, and sweeping the dishes. Bouncy rhyme carries the story headlong into the growing hilarity, until finally Dad restores some kind of order -- but will the cat avoid getting his whiskers wet?
Reviews:
"[Bathe the Cat] will be an absolute hoot at storytime with the rhythmic text lending bounce and energy, and the wacky word play guaranteeing giggles. The father's increasingly frantic desperation is ripe for dramatic interpretation... The watercolor and pencil art has a retro feel, both in bold palette and stylized figures, but the family makes for a fully diverse representation of modernity, with the two Black dads wrangling their family into tidiness." -- The Bulletin of the Center for Children's Books
"Told in rhyming verse, McGinty's silly yarn has charm to spare. Young readers will be tickled by the cat's mischievous misdirects and the resulting pandemonium. Roberts' pen and watercolor illustrations carry on the aesthetic tradition of Pat Hutchins and Judi Barrett, paying homage to the colors and fashions of the 70s. Each page is filled with well-conceived details that deserve close inspection. Preschoolers will be in stitches reading this modern revelry told through a vintage lens." -- School Library Journal
About the Contributors:
Alice B. McGinty is the award-winning author of more than 40 books for children, including The Water Lady. Her picture book biography Darwin was named a NCTE Orbis Pictus Honor book and was a 2009 Booklist Top Ten Biographies for Youth. Alice was born in Minneapolis, Minnesota, and has lived in New York, New Jersey, Kentucky, Maryland, Georgia, and Indiana. She currently resides in Urbana, Illinois.
David Roberts is an award-winning illustrator of children's books, including Iggy Peck, Architect; Rosie Revere, Engineer; and Ada Twist, Scientist. He is currently based in London.