---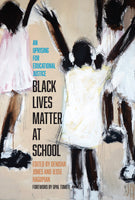 by Denisha Jones and Jesse Hagopian
Haymarket Books
12/8/2020, paperback
SKU: 9781642592702
Black Lives Matter at School succinctly generalizes lessons from successful challenges to institutional racism that have been won through the Black Lives Matter at School movement. This book will inspire many more educators and activists to join the Black Lives Matter at School movement at a moment when this antiracist work in our schools could not be more urgent and critical to education justice.

Contributors include Opal Tometi, who wrote a moving foreword, Bettina Love who shares a powerful chapter on abolitionist teaching, Brian Jones who centers Black Lives Matter at School in the historical context of the ongoing struggle for racial justice in education and prominent teacher union leaders from Chicago to Los Angeles and beyond who discuss the importance of anti-racist struggle in education unions. The book includes essays, interviews, poems, resolutions, and more from educators, students and parents around the country who have been building Black Lives Matter at School on the ground.
Reviews:
"The educators, students, and community activists whose stories are documented here are fighting for a transformative vision of what public schools can be, and the grassroots efforts we will need to get there. Black Lives Matter at School is an essential resource for all those seeking to build an antiracist school system."
--Ibram X. Kendi, National Book Award-winning and #1 New York Times Bestselling Author

"We need this book right now. The shadow-loving fungus of white supremacy won't continue to send its spores to infect our children if we act now to bring the curative light of anti-racist knowledge, compassion, and justice into their lives. Built upon the Black Lives Matter at School organization's Week of Action, this volume provides the adults in our educational institutions with inspiration, organizing principles, strategies, and examples to take 'bold action against anti-Blackness.' The authors - visionary educations of what is possible - call on all of us to radically reshape learning environments to make them safe, supportive, and transformative for all students (and teachers). Please read ASAP!" -- Lisa Delpit, Executive Director of the Center for Urban Education and Innovation at Florida International University

"There is no easy way to talk about the complexities of race facing our school system in America--but we have to talk about it if we are ever going to achieve the schools our children deserve. The Black Lives Matter at School movement has been disrupting the complacency of those who, for too long, have been comfortable not having these conversations about the impact of racism in the schools. Black Lives Matter at School is a playbook for undoing institutional racism in the education system. -- Michael Bennett, NFL defensive lineman, Superbowl champion, and author, Things That Make White People Uncomfortable
About the Contributors:
Denisha Jones is a member of the national Black Lives Matter at School steering committee and Director of the Art of Teaching, graduate teacher education program, at Sarah Lawrence College. After earning her bachelor's degree in early childhood education from the University of the District of Columbia, Denisha worked as a kindergarten and preschool teacher, and a preschool director. She earned her Ph.D. in Curriculum and Instruction from Indiana University in 2013. In 2018, she earned her Juris Doctor from the David A. Clarke School of Law at the University of the District of Columbia. Denisha is an education justice advocate and activist. She serves as Co-Director for Defending the Early Years, Inc, and is the Assistant Executive Director for the Badass Teachers Association. Currently, her research focuses on utilizing the BLM at School curriculum as cultural citizenship and documenting the value of play as a tool for liberation with an emphasis on global approaches to play.

Jesse Hagopian is a member of the Black Lives Matter at School steering committee and teaches Ethnic Studies at Seattle's Garfield High School. Jesse is an editor for Rethinking Schools magazine, the co-editor of the book, Teaching for Black Lives, and the editor of the book More Than a Score: The New Uprising Against High Stakes Testing. Jesse is a recipient of the 2013 Secondary School Teacher of the Year award and the Special Achievement Courageous Leadership award from the Academy of Education Arts and Sciences. In 2015, Jesse received the Seattle/King County NAACP Service Award. Jesse serves as the Director of the Black Education Matters Student Activist Award.