---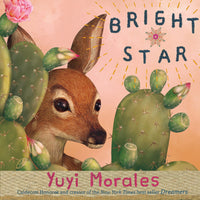 by Yuyi Morales
Neal Porter Books
9/7/2021, hardcover
SKU: 9780823443284
Inspiring, reassuring, and beautifully illustrated, this new story from the creator of the New York Times bestseller Dreamers is the perfect gift for every child.
A New York Times Best Children's Book of the Year
With the combination of powerful, spare language and sumptuous, complex imagery characteristic of her work, Yuyi Morales weaves the tale of a fawn making her way through a landscape that is dangerous, beautiful--and full of potential. A gentle voice urges her onward, to face her fears and challenge the obstacles that seek to hold her back.
Child, you are awake!
You are alive!
You are a bright star,
Inside our hearts.

With a voice full of calm, contemplative wisdom, readers are invited to listen and observe, to accept themselves--and to dare to shout!
In a world full of uncertainty, Bright Star seeks to offer reassurance and courage. Yuyi Morales' first book since her New York Times bestseller Dreamers explores the borderlands--the plants, animals, and insects that make their home in the desert, and the people who live and travel through this unique and beautiful part of the world.
Created with a combination of techniques including hand-embroidered lettering, painting, sketching, digital paintings with textures from photographs of the Sonoran Desert, this stunning book is full of beauty--from the handwoven blanket of the endpapers through the last inspiring spread of young families facing their future with determination and hope.
Target age: 4 to 8
Reviews:
"This book is beautiful to behold, and every spread is magically rendered with bright colors, embroidered text and the desert critters that live in the borderlands. Morales reminds her readers that all humans and life are important and that we can dream a better future into existence for all who live here." --Washington Post
"In English text that holds Spanish within it, Morales meditates on community, imagination, immigration, and the natural world, often pulling from current events and recent societal traumas. Thanks to some awe-inspiring moments and rather startling images, the fawn's journey moves at a dreamy pace, inviting further rereads. . . . Utterly beautiful." --Kirkus Reviews, Starred Review
"The encouraging prose and the symbolism are lovely. . . . Morales captures the flora and fauna of the Sonoran desert with tender fidelity, depicting a delicate Southwestern Eden teeming with life from peccaries to bats to flowering cactus and ruptured by the harshly looming wall. Touchable textures, including wool embroidery for some words, increase the fascination of the glowing scenes. . . ." -- The Bulletin of the Center for Children's Books
About the Author:
Born in Xalapa, Mexico, where she currently resides, Yuyi Morales lived for many years in the San Francisco Bay Area, where she still maintains close relations with booksellers and librarians. She has won the prestigious Pura Belpré Award for Illustration six times, for Dreamers, Just a Minute: A Trickster Tale and Counting Book, Los Gatos Black on Halloween, Just in Case: A Trickster Tale and Spanish Alphabet Book, Niño Wrestles the World, and Viva Frida, also a Caldecott Honor Book.