---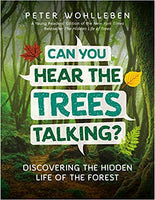 by Peter Wohlleben
Greystone Kids
10/1/2019, hardcover
SKU: 9781771644341
Did you know that trees have parents, and tree grandparents with wrinkles? That tree kids go to school for hundreds of years? That there is such a thing as the forest internet? And that trees make us healthy and strong. Sometimes, even trees get sick, but we can help them heal. Can You Hear the Trees Talking? shares the mysteries and magic of the forest in language kids will love and understand.
Reviews:
"A forest's worth of appealing sidebars, pop-up quizzes with fascinating statistics, and colorful photographs add to a strong subtext: Forest preservation is not just important, but imperative. A tree-treatise treat." --Kirkus (Starred Review)
"Children were talking with trees for centuries before scientists proved that trees communicate. What better guide to kids' conversation with our leafy neighbors than Peter Wohlleben, who revealed to adults the hidden lives of trees? This splendid book is bursting with exciting science. Better yet, Can You Hear The Trees Talking? fosters reverence and wonder for a forest far more magical than even fairy-tales claim." --Sy Montgomery, New York Times bestselling author and recipient of the Sibert Medal
About the Author:
Peter Wohlleben is the author of several books about the natural world, including The Heartbeat of Trees, The Hidden Life of Trees , The Inner Life of Animals, and The Secret Wisdom of Nature. His books for children include Can You Hear the Trees Talking? , Do You Know Where the Animals Live?, and Peter and the Tree Children. A longtime former forester, Wohlleben runs a Forest Academy in Germany that supports sustainable forest management and teaches adults and children about the many wonders of the forest.