---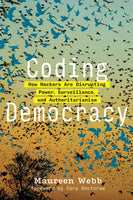 by Maureen Webb, foreword by Cory Doctorow
MIT Press
07/21/2021, paperback
SKU: 9780262542289
Hackers as vital disruptors, inspiring a new wave of activism in which ordinary citizens take back democracy.
Hackers have a bad reputation, as shady deployers of bots and destroyers of infrastructure. In Coding Democracy, Maureen Webb offers another view. Hackers, she argues, can be vital disruptors. Hacking is becoming a practice, an ethos, and a metaphor for a new wave of activism in which ordinary citizens are inventing new forms of distributed, decentralized democracy for a digital era. Confronted with concentrations of power, mass surveillance, and authoritarianism enabled by new technology, the hacking movement is trying to build out democracy into cyberspace.
Reviews:
"She's building a powerful case for the fact that technology as we know it--omnipresent, flawed, world-improving--has become so entrenched and static that it really does need the hackers worrying the edges of its firewalls. In Webb's telling, hackers aren't heroes destined to bring the world to a grand new order of their own transgressive imaginings. They're agents of positive chaos." -- Wired
"Coders seeking to do good in the world will find much inspiration here." -- Kirkus Reviews
"Coding Democracy is a thorough, well-written work of scholarship that should be seen as a welcome addition to a growing body of work about the relationship between computing, society and government. A lawyer, Webb is able to weave the hacker narrative into various strands of thought relating to political science, history, legislation, law enforcement, regulations, civil law, politics and ethics." -- Journal of Cyber Policy

About the Contributors:
Maureen Webb is a labor lawyer and human rights activist. She is the author of Illusions of Security: Global Surveillance and Democracy in the Post-9/11 World and has taught national security law as an Adjunct Professor at the University of British Columbia.

Cory Doctorow is a regular contributor to the Guardian, Locus, and many other publications. He is a special consultant to the Electronic Frontier Foundation, an MIT Media Lab Research Associate and a visiting professor of Computer Science at the Open University. His award-winning novel Little Brother and its sequel Homeland were New York Times bestsellers. His novella collection Radicalized was a CBC Best Fiction of 2019 selection. Born and raised in Canada, he lives in Los Angeles.