---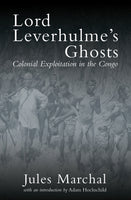 by Jules Marchal, introduction by Adam Hochschild

Verso Books
01/31/2017, paperback
SKU: 9781784786311
In this definitive, meticulously researched history, Jules Marchal exposes the nature of forced labour under Lord Leverhulme's rule and the appalling conditions imposed upon the people of Congo.
With an extensive introduction by Adam Hochschild, Lord Leverhulme's Ghosts is an important and urgently needed account of a laboratory of colonial exploitation.
Reviews:
"His capacious narrative is both disturbing and fascinating." - New Yorker
"A hundred years ago, enlightened people in the western world were outraged by a holocaust in Africa which left millions dead. Yet today not one person in a thousand could say what the fuss was all about, unless, of course, they have already read this amazing book." - Tariq Ali, Author of The Forty-Year War in Afghanistan

About the Author:
Jules Marchal, a former diplomat in the Belgian Congo, (1924-2004) spent twenty years researching forced labor and the history of colonial exploitation in the Congo.
Adam Hochschild is the author of the award-winning King Leopold's Ghost, Spain in Our Hearts: Americans in the Spanish Civil War, 1936-1939, and Rebel Cinderella: From Rags to Riches to Radical, the Epic Journey of Rose Pastor Stokes. He teaches at the University of California, Berkeley.