---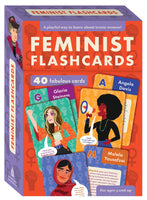 by Julie Merberg and Samantha Guss, Illustrated by Alyssa Gonzalez
Downtown Bookworks
11/5/2019
SKU: 9781941367858
Young readers and budding activists can learn their letter sounds and a fun dose of women's history all at once with fabulously illustrated Feminist Flashcards.
Each colorful card has lots of learning and entertainment value: A single letter represents an important feminist--from Angela Davis to Zadie Smith. A simple, age appropriate description of her accomplishments or significance to the feminist movement is accompanied by an inspiring quote.
In addition to the cards, a 32-page book provides a timeline of women's rights around the world. Famous quotes and astonishing facts about sexist laws and practices contextualize the women featured in the cards, and their causes.
The cards can also be used for a number of fun games: matching, hidden pictures, and more!
Target age: 2-5
About the Authors:
Julie Merberg is the author of many children's books including My First Book of Girl Power, My First Book of Feminism, and My First Book of Feminism (for Boys).

Alyssa Gonzalez is an artist and a designer for Hallmark Cards. She lives in Kansas City.