---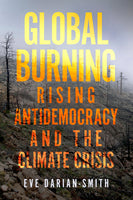 by Eve Darian-Smith
Stanford University Press
04/19/2022, paperback
SKU: 9781503631083
How extreme-right antidemocratic governments around the world are prioritizing profits over citizens, stoking catastrophic wildfires, and accelerating global climate change.
Recent years have seen out-of-control wildfires rage across remote Brazilian rainforests, densely populated California coastlines, and major cities in Australia. What connects these separate events is more than immediate devastation and human loss of life. In Global Burning, Eve Darian-Smith contends that using fire as a symbolic and literal thread connecting different places around the world allows us to better understand the parallel, and related, trends of the growth of authoritarian politics and climate crises and their interconnected global consequences.
Darian-Smith looks deeply into each of these three cases of catastrophic wildfires and finds key similarities in all of them. As political leaders and big business work together in the pursuit of profits and power, anti-environmentalism has become an essential political tool enabling the rise of extreme right governments and energizing their populist supporters. These are the governments that deny climate science, reject environmental protection laws, and foster exclusionary worldviews that exacerbate climate injustice.
The fires in Australia, Brazil and the United States demand acknowledgment of the global systems of inequality that undergird them, connecting the political erosion of liberal democracy with the corrosion of the environment. Darian-Smith argues that these wildfires are closely linked through capitalism, colonialism, industrialization, and resource extraction. In thinking through wildfires as environmental and political phenomenon, Global Burning challenges readers to confront the interlocking powers that are ensuring our future ecological collapse.
Reviews:
"In a daring move that combines the familiar and the unexpected, Eve Darian-Smith adds anti-environmentalism as a distinctive dimension to our understanding of the global rise of extreme far-right governments. Anti-environmentalism assumes a whole range of new meanings in this book -- including willful denials of what we know will be disastrous effects." -- Saskia Sassen, Columbia University
"Global Burning is a brilliant analysis of how a range of anti-democratic trends can be viewed through the lens of catastrophic wildfires across the globe. If you want to understand how to analyze and become involved in a politics of collective resistance aimed at saving both the planet and democracy itself, this is the book to read." --Henry Giroux author of Race, Politics, and Pandemic Pedagogy: Education in a Time of Crisis and America at War With Itself
About the Author:
Eve Darian-Smith is Professor and Chair of the Department of Global and International Studies at the University of California, Irvine. Her most recent book is The Global Turn: Theories, Research Designs, and Methods for Global Studies, with Philip McCarty.