---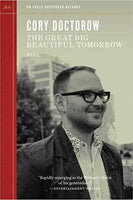 by Cory Doctorow
PM Press
11/1/2011, paperback
SKU: 9781604864045
In a Disney-dominated future, a transhuman teenager engages in high velocity adventures until he meets the "meat girl" of his dreams and is forced to choose between immortality and sex in one of Cory Doctorow's most daring novellas.
Also included in this collection is "Creativity vs. Copyright," a transcript of Doctorow's historic address to the 2010 World Science Fiction Convention, dramatically presenting his controversial case for open-source models not only in information but art as well, and "Outspoken Interview," in which Doctorow reveals the surprising inspirations for his writing.
Part of PM Press' Outspoken Authors series.
About the Author:
Cory Doctorow is an author, an activist, a journalist, and the coeditor of BoingBoing.net. He is the author of Content, Down and Out in the Magic Kingdom, For the Win, and Little Brother.