---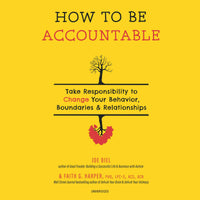 by Joe Biel and Faith Harper
Microcosm Publishing
11/10/2020, paperback
SKU: 9781621062363
Accountability means accepting responsibility for your actions and repairing any harm you have done. This book can be used by anyone who is ready to do the work to change toxic behaviors and patterns, from quitting smoking to atoning for abuse or crimes. At its heart, accountability is understanding that your actions do not always have the impact that you intend. Sometimes this is as simple as getting to know yourself and apologizing. Sometimes it's a years-long process to recognize the motivations and behaviors that you see inside yourself and feel like you have no control over. Ultimately, accountability is something we each must choose for ourselves; nobody else can do it for us. The results can be unexpected and transformative, and improve your friendships, relationships, work, and community; most of all it's about coming to peace with yourself. The authors share tough lessons learned through many years of personal and professional experience. This book will walk you through your own head to understand your own patterns and behaviors, untangle them, and live the kind of life you want.
About the Authors:
Joe Biel is a self-made autistic publisher and filmmaker who draws origins, inspiration, and methods from punk rock. He is the founder and CEO of Microcosm Publishing and co-founder of the Portland Zine Symposium. He is the author of Understanding Eugenics: The U.S. and Nazi Plans to Shape the Gene Pool & Control the Population, Stay Solid: A Radical Handbook for Youth, Make a Zine, The CIA Makes Science Fiction Unexciting, Proud to be Retarded, Bicycle Culture Rising, and more.
Faith G. Harper, PhD, LPC-S, ACS, ACN is a bad-ass, funny lady with a PhD. She's a licensed professional counselor, board supervisor, certified sexologist, and applied clinical nutritionist with a private practice and consulting business in San Antonio, TX. She has been an adjunct professor and a TEDx presenter, and proudly identifies as a woman of color and uppity intersectional feminist. She is the author of the book Unf*ck Your Brain and many other popular zines and books on subjects such as anxiety, depression, and grief. She is available as a public speaker and for corporate and clinical trainings.