---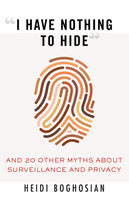 by Heidi Boghosian
Beacon Press
7/13/2021, paperback
SKU: 9780807061268
An accessible guide that breaks down the complex issues around mass surveillance and data privacy and explores the negative consequences it can have on individual citizens and their communities.
No one is exempt from data mining: by owning a smartphone, or using social media or a credit card, we hand over private data to corporations and the government. We need to understand how surveillance and data collection operates in order to regain control over our digital freedoms--and our lives.
Attorney and data privacy expert Heidi Boghosian unpacks widespread myths around the seemingly innocuous nature of surveillance, sets the record straight about what government agencies and corporations do with our personal data, and offers solutions to take back our information. "I Have Nothing to Hide" is both a necessary mass surveillance overview and a reference book. It addresses the misconceptions around tradeoffs between privacy and security, citizen spying, and the ability to design products with privacy protections. Boghosian breaks down misinformation surrounding 21 core myths about data privacy, including:
- "Surveillance makes the nation safer."
- "No one wants to spy on kids."
- "Police don't monitor social media."
- "Metadata doesn't reveal much about me."
- "Congress and the courts protect us from surveillance."
- "There's nothing I can do to stop surveillance."  
By dispelling myths related to surveillance, this book helps readers better understand what data is being collected, who is gathering it, how they're doing it, and why it matters.
Reviews:
"Blatant misinformation can be easy to spot and debunk. What Heidi Boghosian dispels here are more insidious and more important: the core myths regarding data and privacy that quietly coalesce into conventional wisdoms. By unpacking the most pervasive and pernicious misconceptions, Boghosian leaves readers better informed about the modern surveillance state and better equipped to do something about it."  --Nathan Fuller, director, Courage Foundation  
"The first time I opened this book, I audibly squealed in delight. The persistent privacy myths that Boghosian exposes are the torment of every privacy advocate's existence. She eviscerates each one with style. Melding important tech and policy history with personal stories and current events, this book is for anyone who wants to lay to rest the most persistent and damaging myth: that we should give up on our privacy altogether."  --Alison Macrina, director, Library Freedom Project  
"Heidi Boghosian's book clearly and concisely tears down the lies we tell ourselves when it comes to the dark underbelly of technology as it relates to surveillance. Privacy is a right, and we need leaders like Heidi to tell us how to defend it from entities that purport to protect and serve us."  --Rachel A. Pickens, executive director, National Police Accountability Project
About the Author:
Heidi Boghosian is an attorney and co-host of Law & Disorder Radio. She is executive director of the A.J. Muste Institute, a charitable foundation supporting activist organizations. She was previously executive director of the National Lawyers Guild. Boghosian has written numerous articles and reports on policing and activism, and is the author of Spying on Democracy: Government Surveillance, Corporate Power, and Public Resistance. She received her JD from Temple Law School where she was editor in chief of the Temple Political & Civil Rights Law Review.