---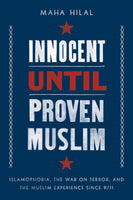 by Maha Hilal
Broadleaf Books
01/25/2022, hardcover
SKU: 9781506470467
On September 11, 2001, nineteen terrorists hijacked four airplanes and carried out attacks on the United States, killing more than three thousand Americans and sending the country reeling.
Three days after the attacks, President George W. Bush declared, This is a day when all Americans from every walk of life unite in our resolve for justice and peace. Yet in the days following, Bush declared a War on Terror, which would result in years of Muslims being targeted on the basis of collective punishment and scapegoating.
In 2009, President Barack Obama said, America must play its role in ushering in a new era of peace. Instead, Obama perpetuated the War on Terror's infrastructure that Bush had put in place, rendering his words entirely empty. President Donald Trump's overtly Islamophobic rhetoric added fuel to the fire, stoking public fears to justify the continuation of the War his predecessors had committed to.
In Innocent Until Proven Muslim, scholar and organizer Dr. Maha Hilal tells the powerful story of two decades of the War on Terror, exploring how the official narrative has justified the creation of a sprawling apparatus of state violence rooted in Islamophobia and excused its worst abuses. Hilal offers not only an overview of the many iterations of the War on Terror in law and policy, but also examines how Muslim Americans have internalized oppression, how some influential Muslim Americans have perpetuated collective responsibility, and how the lived experiences of Muslim Americans reflect what it means to live as part of a suspect community. Along the way, this marginalized community gives voice to lessons that we can all learn from their experiences, and to what it would take to create a better future.
Twenty years after the tragic events of 9/11, we must look at its full legacy in order to move toward a United States that is truly inclusive and unified.
Reviews:
"As a former Guantanamo Bay prisoner for 14 years, I've found few books that can speak to the violence of a war of which I was, and continue to be, a casualty. Dr. Hilal's book brilliantly exposes the destructive logics behind the war and its innumerable impacts -- visible and invisible -- on Muslims across the globe. Her unflinching commitment to presenting a comprehensive account of the structures and harms of the War on Terror will inevitably shift the tide towards justice and accountability for Muslims. This couldn't be more important at this juncture in time." -- Mohamedou Slahi, author of Guantánamo Diary
"Dr. Maha Hilal has done something extraordinary: to seamlessly blend academic analysis, social theory, political insight, moral conviction, and personal experience into a history of the post-9/11 United States like none other. Her complex definition of Islamophobia -- and acute sense of how it works through language -- are profoundly illuminating. Furthermore, her thorough examination and critical account of how language underwrites state violence against Muslims is deeply disturbing. Hilal's rigorous effort to understand vast, racialized systems of state power is equalled by her compassion for their victims. This gives Innocent Until Proven Muslim a big heart, which itself feels like resistance to the dehumanizing logic of the War on Terror. May we all learn from Dr. Hilal's wisdom and courage." -- Jeremy Varon, Professor of History at The New School
About the Author:
Dr. Maha Hilal is an expert on institutionalized Islamophobia and has spent her career researching, writing on, and advocating and organizing against it. She is cofounder of Justice for Muslims Collective. Dr. Hilal holds a PhD in Justice, Law, and Society from American University and has received many awards, including the Department of State's Critical Language Scholarship, the Kathryn Davis Fellowship for Peace, and a Reebok Human Rights Fellowship.