---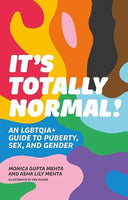 by Monica Gupta Mehta and Ash Mehta
Jessica Kingsley
5/18/2023, paperback
SKU: 9781839973550
Does fingering count as losing my virginity? How do I know if I am ready for sex? Does penis size actually matter?
Mother and teen duo Monica and Asha Mehta work together to answer your most pressing questions. Forget the penis-in-vagina basics - this is a queer friendly guide that'll have you rethinking the very definition of sex. Combining expert advice with the personal experiences of teens all over the world, prepare to plunge into the topics they don't cover in sex ed. Masturbation, pornography, fetishes - if you're not afraid to ask, they're not afraid to answer.
Target age: 12 to 17
Reviews:
"Wow -- what an engaging resource for teens! It's rare to see such a successful blend of comprehensive information and caring advice, especially one that affirms and includes so many identities and experiences. From the general to the specific, this book offers so many answers. To see shame-free information being shared so generously by Monica and Ash, along with many of their anonymous question-askers and storytellers, is such a gift to teens everywhere." -- Rachel Simon, author of The Every Body Book
About the Contributors:
Monica Gupta Mehta is a panromantic and demisexual parent, sex education and SEL (social emotional learning) teacher, and an educational psychologist.
Ash Mehta is her nonbinary, lesbian child, and together they are co-founders of Normalizers - an organization that seeks to create safe spaces for LGBTQIA youth. Normalizers began on TikTok and now has over a hundred thousand followers.