---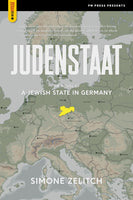 by Simone Zelitch
PM Press
1/1/2020, paperback
SKU: 9781629637136
It is 1988. Judit Klemmer is a filmmaker who is assembling a fortieth-anniversary official documentary about the birth of Judenstaat, the Jewish homeland surrendered by defeated Germany in 1948. Her work is complicated by Cold War tensions between the competing U.S. and Soviet empires and by internal conflicts among the "black-hat" Orthodox Jews, the far more worldly Bundists, and reactionary Saxon nationalists, who are still bent on destroying the new Jewish state.
But Judit's work has far more personal complications. A widow, she has yet to deal with her own heart's terrible loss--the very public assassination of her husband, Hans Klemmer, shot dead while conducting a concert.
Then a shadowy figure slips her a note, with new and potentially dangerous information about her famous husband's murder. Then the ghost steps in...
Reviews:
"Judenstaat uses the technique of alternate history to offer biting commentary on modern Israel, on the post–Cold War era in which we live, and on religion and nationhood." —Cory Doctorow, coeditor of Boing Boing and author of Radicalized and Little Brother
"Israel in Europe! What a rich, provocative idea—and what a writer to take it on, with the imagination, heart, and depth it deserves." —Terry Bisson, author of Any Day Now
About the Author:
The author of several historical novels ranging from medieval England, to World War II Budapest, to the Jim Crow American South, Simone Zelitch is a Peace Corps veteran who teaches writing at the Community College of Philadelphia.