---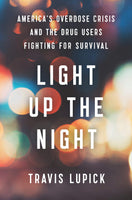 by Travis Lupick
The New Press
1/4/2022, hardcover
SKU: 9781620976388
A revelatory, moving narrative that offers a harrowing critique of the war on drugs from voices seldom heard in the conversation: drug users who are working on the front lines to reduce overdose deaths
Media coverage has established a clear narrative of the overdose crisis: In the 1990s, pharmaceutical corporations flooded America with powerful narcotics while lying about their risk; many patients developed addictions to prescription opioids; then, as access was restricted, waves of people turned to the streets and began using heroin and, later, the dangerous synthetic opioid fentanyl.
But that's not the whole story. It fails to acknowledge how the war on drugs has exacerbated the crisis and leaves out one crucial voice: that of drug users themselves.
Across the country, people who use drugs are organizing in response to a record number of overdose deaths. They are banding together to save lives and demanding equal rights. Set against the backdrop of the overdose crisis, Light Up the Night provides an intimate look at how users navigate the policies that criminalize them. It chronicles a rising movement that's fighting to save lives, end stigma, and inspire commonsense policy reform.
Told through embedded reporting focused on two activists, Jess Tilley in Massachusetts and Louise Vincent in North Carolina, this is the story of the courageous people stepping in where government has failed. They are standing on the front lines of an underground effort to help people with addictions use drugs safely, reduce harms, and live with dignity.
Reviews:
"An intimate portrait of the unsung activists who are doing what it actually takes to fight the overdose crisis." -- Maia Szalavitz, author of Undoing Drugs and Unbroken Brain
"The war on drugs is a war on people--and the activists in this book are our people. I hope that their stories will inspire for years to come." -- Monique Tula, executive director, National Harm Reduction Coalition
"Gripping, vividly told dispatches from the front lines of drug addiction. . . . A true antidote to the insanity of the drug war and to punitive approaches to human suffering." -- Gabor Maté, MD, author of In the Realm of Hungry Ghosts
"A candid and vital look at the harm reduction method of addiction treatment on two drug users turned activists . . . the book's greatest strength is the intimate portrait of two indomitable women who have dedicated their lives to helping others. A must-read for those on the front lines of the opioid crisis." --Publishers Weekly
About the Author:
Travis Lupick is an award-winning journalist who has written for the Los Angeles Times, Los Angeles Review of Books, and VICE magazine, among others. The author of Fighting for Space: How a Group of Drug Users Transformed One City's Struggle with Addiction and Light Up the Night: America's Overdose Crisis and the Drug Users Fighting for Survival (The New Press), he lives in Southern California.