---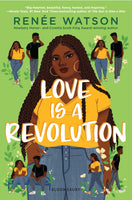 by Renée Watson
Bloomsbury YA
2/1/2022, paperback

SKU: 9781547608621
From New York Times bestselling and award-winning author Renée Watson comes a love story about not only a romantic relationship but how a girl finds herself and falls in love with who she really is.
When Nala Robertson reluctantly agrees to attend an open mic night for her cousin-sister-friend Imani's birthday, she finds herself falling in instant love with Tye Brown, the MC. He's perfect, except . . . Tye is an activist and is spending the summer putting on events for the community when Nala would rather watch movies and try out the new seasonal flavors at the local creamery. In order to impress Tye, Nala tells a few tiny lies to have enough in common with him. As they spend more time together, sharing more of themselves, some of those lies get harder to keep up. As Nala falls deeper into keeping up her lies and into love, she'll learn all the ways love is hard, and how self-love is revolutionary.
In Love Is a Revolution, plus size girls are beautiful and get the attention of the hot guys, the popular girl clique is not shallow but has strong convictions and substance, and the ultimate love story is not only about romance but about how to show radical love to the people in your life, including to yourself.
Target age: 13 and up
Reviews:
"A delightful, joyous coming-of-age tale that features dynamic characters and a sweet romance, and it doesn't shy away from weighty social and political topics, all the while spinning the magic of Black Girl Joy." - Booklist, starred review
"Teen and tween readers questioning their own identities and places in the world should connect with Watson's meaningful social and environmental themes. . . . [A] warm and hopeful story." - Shelf Awareness, starred review
"One of the most radical things a Black girl can do is know that she is both worthy of love and deserving of joy. In Love Is a Revolution, Watson takes us on Nala's journey to claim her right to decide who she wants to be in a world that so often tries to fit Black girls into metaphorical boxes. It is deftly crafted, big-hearted, beautiful, funny, honest, and inspiring." - Nicola Yoon, award-winning and #1 New York Times bestselling author of EVERYTHING, EVERYTHING and THE SUN IS ALSO A STAR
About the Author:
Renée Watson is a New York Times bestselling author. Her novel, Piecing Me Together, received a Newbery Honor and Coretta Scott King Award. Her books include Love is a Revolution, Ways to Make Sunshine, Some Places More Than Others, This Side of Home, What Momma Left Me, Betty Before X, co-written with Ilyasah Shabazz, and Watch Us Rise, co-written with Ellen Hagan, as well as two acclaimed picture books: A Place Where Hurricanes Happen and Harlem's Little Blackbird, which was nominated for an NAACP Image Award. Renée grew up in Portland, Oregon, and splits her time between Portland and New York City.